In honor of the continued exploration of our solar system, Twilight Tales on Tuesday featured stories about our solar system, astronauts, and space exploration.  Here are a few of the books available at Handley Regional Library that feature stories about space, astronauts, and the solar system:
If I were an Astronaut by Eric Braun – fun and simple text, packed with information about the life and work of an astronaut.
JE Braun
 Space Probes by David Jefferis – a more in-depth nonfiction book all about the unmanned missions we have sent out to explore our gallaxy.
J 629.4354 Jef
Hush, Little Alien by Daniel Kirk – behind a hilarious adaptation of the classic lullaby "Hush, Little Baby," lies a singable bedtime tale with depth and sweetness.
JE Kirk
Astro Bunnies by Christine Loomis – bold, high-contrast illustrations and simple text make this an excellent choice as a read-aloud to babies.
JE Loomis
Zoom, Rocket, Zoom! by Margaret Mayo – "A rhythmic, rollicking text pairs with bold, bright illustrations to capture the imaginations of young space explorers everywhere."
JE Mayo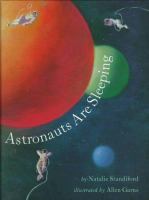 Astronauts and Sleeping by Natalie Standiford – a dreamy, imaginative bedtime story whose lush pastel illustrations take the reader on a tour of the solar system.  JE Standiford
We also have a selection of books and library resources relating to recent solar system exploration here on the blog in our post about the New Horizons mission to Pluto: Expand Your Horizons: Fly By Pluto.
As our craft, we made a star counting game to take home.  The game is based on the traditional song "Bye'm Bye.
By'm bye, By'm bye;
Stars shining, number,
number one, number two, number three,
number four, number five,
Oh, my! By'm Bye, By'm Bye
Oh, my! By'm Bye.
Instructions for the Game:
To play, you need five stars and 5 small squares.  On each square, write one number, from 1 to 5.   Before you begin singing, lay the squares face down and pick one number.  The number you select is the number of stars you count out as you sing.  Pick a number for each verse, and sing only up to that number of stars, laying down a paper star with each one you count. By engaging the senses of touch, sight, and hearing simultaneously, this game helps engage several primary learning styles.  By engaging all of these together, children will more readily learn the meaning of the numbers.  The game can also be expanded to as many numbers as you wish when your child is ready to learn more numbers!