Monster Stories 2015
Things That Go Bump in the Night Stories
With scarecrows in the front yard, jack-o-lanterns carved, and candy bowls at the ready, it's time for Halloween! The Library's ready for the holiday with monster, scary story, and pumpkin-themed displays, costumes for dogs and people alike, and storytimes about the things that go bump in the night.
Here are a few of the stories, poems, and songs  that we'll be sharing this week, so you can keep singing, playing, and reading with your little one at home.
Books to Share: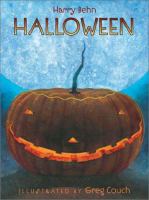 Halloween by Harry Behn – JE Behn
"An illustrated poem that describes some of the spooky events that occur on Halloween night."
Love Monster by Rachel Bright – JE Bright
Expressive illustrations encourage children to empathize with the lonely monster as he sets out to find someone who will love him just the way he is.
If You're a Monster and You Know It by Rebecca Emberly – JE Emberly
"Children will stomp their paws, twitch their tails, snort and growl, and wiggle and wriggle along with this bright and bold picture book twist on 'If You're Happy and You Know It.' Rebecca Emberley has written a rollicking text, which she has illustrated in collaboration with her father, Caldecott Medalist Ed Emberley. Includes a fun sing-along song by Adrian Emberley which can be downloaded at Scholastic.com If You're a Monster and You Know It."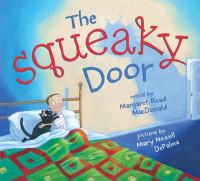 The Squeaky Door by Margaret Read MacDonald – JE MacDonald
"When Little Boy is frightened by a squeaky bedroom door, his grandmother brings in various animals to help him feel secure enough to sleep."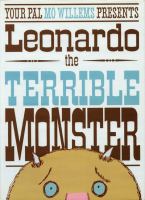 Your Pal Mo Willems Presents Leonardo the Terrible Monster by Mo Willems – JE Willems
"Leonardo is truly a terrible monster — terrible at being a monster, that is. Despite his best efforts, he cant seem to frighten anyone. But when he discovers the perfect nervous little boy, will he finally scare the tuna salad out of him? Or will he think of something even better?"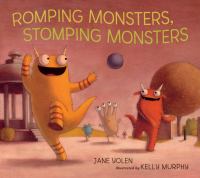 Romping Monsters, Stomping Monsters by Jane Yolen – JE Yolen
"In this high-octane sequel to Creepy Monsters, Sleepy Monsters, wild and whimsical artwork revs up a read-aloud text that will have little listeners jumping up to join the action."
These books, and many more, are available at the Handley Regional Library.  If you're looking for more books about monsters, we have compiled a booklist all about monsters for you to use: Monster Stories.
Many of our booklists of titles on popular subjects are also available right here on the blog on the Booklists page and are also available in hardcopy at your library.
Songs and Poems to Share:
Horns and Fangs
(Sing to the tune of "Head, Shoulders")
Horns and fangs,
knees and claws,
knees and claws.
Horns and fangs
and knees and claws,
Eyes, ears, tails, and paws.
Horns and fangs,
and knees and claws,
knees and claws,
If I were a monster . . .
If I were a happy monster, I'd go "Ha, ha, ha!"
If I were a sad monster, I'd go "Boo, hoo, hoo!"
If I were a mad monster, I'd go Stomp, Stomp, Stomp
If I were a scared monster, I'd go "Eek, Eek, Eek!"
But I'm just me, you see, so I'll just read, read, read!
Five Little Monsters
(count on fingers or toes)
This little monster has a big red nose
This little monster has purple toes.
This little monster plays all night.
This little monster is such a fright.
And this little monster goes "Tee-hee-hee"
"I'm not scary, It's just me!"
Five Little Monsters
Five little monsters sitting on the floor. (hold up 5 fingers)
The first one said, "Let's knock on someone's door." (knock)
The second one said, "Let's act a little scary." (show claws)
The third one said, "Why are we so hairy?" (shrug shoulders)
The fourth one said, "I hear a funny sound." (cup ear)
The fifth one said, "There's no one else around." (shake head)
Then "WHOOSH" went the wind (fling arms to one side)
And "EEK!" someone said. (wave hands in the air)
So the five little monsters ran under the bed. (hold up 5 fingers, hide them under other hand)
Monster, Monster
(like "Teddy Bear Teddy Bear")
Monster, monster, turn around.
Monster, monster, touch the ground.
Monster, monster, reach up high.
Monster, monster, squint your eyes.
Monster, monster, show your teeth.
Monster, monster, stamp your feet.
What's your favorite Halloween story or song?
We hope to see you at one of Bowman Library's storytimes:
Toddler Storytime – Mondays @ 11AM
Twilight Tales – Tuesdays @ 6PM
Preschool Storytime – Wednesdays @ 11AM
Baby Storytime – Thursdays @ 11AM
Preschool Storytime – Saturdays @ 11AM
Check the calendar for storytime schedules at the Handley and Clarke County Libraries and for special events throughout the system.