Native American Stories

November is Native American Heritage Month, a great time to learn about the history and culture of our country's first inhabitants.  In honor of Native American heritage, our storytimes will be using some of Handley Regional Library's children's books featuring retellings of Native folktales or by Native authors and illustrators.
Here are a few of the stories, poems, and songs that we'll be sharing this week, so you can keep singing, playing, and reading with your little one at home.
Books to Share:
Ten Little Rabbits by Virginia Grossman – JE Grossman
"A counting rhyme with illustrations of rabbits in Native American costume, depicting traditional customs such as rain dances, hunting, and smoke signals. Includes a glossary with additional information on the customs."
The First Strawberries: a Cherokee Story by Joseph Bruchac – J 398.2 Bru
"A quarrel between the first man and the first woman is reconciled when the Sun causes strawberries to grow out of the earth."
The Legend of the Indian Paintbrush by Tomie dePaola – JE DePaola
"Little Gopher follows his destiny, as revealed in a Dream-Vision, of becoming an artist for his people and eventually is able to bring the colors of the sunset down to the earth."
On Mother's Lap by Ann Herbert Scott – JE Scott
"A small Eskimo boy discovers that Mother's lap is a very special place with room for everyone."
D is for Drum: A Native American Alphabet by Debbie and Michael Shoulders – JE Shoulders
"Readers get an A-Z introduction to the customs and cultures of the first people inhabiting the Americas. Topics include Bison, teepees, Kachinas, and dugout canoes inhabiting the Americas."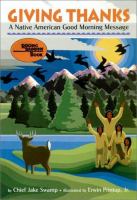 Giving Thanks: A Native American Good Morning Message by Chief Jake Swamp – J 299.74 Swa
Vibrantly colored paintings showing scenes of Native American life accompany a heart-felt text of gratitude, based on a traditional Mohawk prayer of thanksgiving.
Northwoods Cradle Song: From a Menominee Lullaby by Douglas Wood – JE Wood
"A poetic adaptation of a Menominee Indian lullaby that describes the sights and sounds of night."
These books, and many more, are available at the Handley Regional Library. Many of our booklists of titles on popular subjects are also available right here on the blog on the Booklists page and are also available in hardcopy at your library.
Songs and Poems to Share:
Teepee Song
(Sing to the tune of "Farmer in the Dell")
A teepee is my home.
Of deer skins it is made.
A place on top where smoke can go,
It stands in forest shade.
The river runs nearby
and there is my canoe.
I paddle up and down the stream,
beneath a sky of blue.
Ten Little Indians
One little, two little, three little Indians.
Four little, five little, six little Indians.
Seven little, eight little, nine little Indians.
Ten little Indian boys.
Ten little, nine little, eight little Indians.
Seven little, six little, five little Indians.
Four little, three little, two little Indians.
One little Indian boy.
Rocks 
I saw a rock upon the sand.
How did it come to this great land?
If rocks could talk, what would they say?
What other children had come to play?
Were they settlers in this new land?
Or Native Americans on the sand?
If rocks could talk, what would they say?
About long-ago children who came to play?
Tall Trees Call and Response Poem
Tall trees (Tall trees)
Warm fire (Warm fire)
Strong wind (Strong wind)
Cool water (Cool water)
I feel it in my body.
I feel it in my soul.
Tall trees (Tall trees)
Warm fire (Warm fire).
More Resources:
The Native American Heritage Month website has many resources for further learning, including many examples of Native American music.
HRL also provides our patrons access to the Lands and Peoples database both in the library and from home with a library card number.  This database contains news stories, magazine articles, dictionary articles and more all about the Lands and Peoples of the world.  Search for a specific tribe or for Native Americans in general to learn more about Native American culture, history, and present day issues.
We hope to see you at one of Bowman Library's storytimes:
Toddler Storytime – Mondays @ 11AM
Twilight Tales – Tuesdays @ 6PM
Preschool Storytime – Wednesdays @ 11AM
Baby Storytime – Thursdays @ 11AM
Preschool Storytime – Saturdays @ 11AM
Check the calendar for storytime schedules at the Handley and Clarke County Libraries and for special events throughout the system.