Aviation History Month Stories
Are you traveling for the holidays?  One way to prepare your children for their first flights is to read stories about airplanes, flying, and pilots.  Since November is also Aviation History Month, we'll be learning about planes and aviation at some of our storytimes this week.
Here are a few of the stories, poems, and songs  that we'll be sharing this week, so you can keep singing, playing, and reading with your little one at home.
Books to Share:
The Return of Freddie Legrand by Jon Agee – JE Agee
Heartwarming story of friendship and adventure, set in the perilous early days of aviation.
Airplanes by Byron Barton – JE Barton
"Simple words & brightly colored artwork portray the roles of airplanes."
The Hallelujah Flight by Phil Bildner – JE Bildner
"In 1932, James Banning, along with his co-pilot Thomas Allen, make history by becoming the first African Americans to fly across the United States, relying on the generosity of people they meet in the towns along the way who help keep their "flying jalopy" going.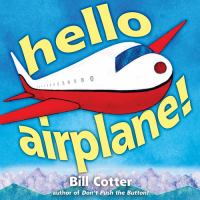 Hello, Airplane! by Bill Cotter – JE Cotter
"Say hello to the airplane as it takes off on an exciting adventure: gliding through the night sky, skimming above the clouds, and soaring into a bright new morning. Where will the airplane go next? This vibrant new picture book from Bill Cotter, author/illustrator of Don't Push the Button , takes young readers on an imaginative journey they won't forget."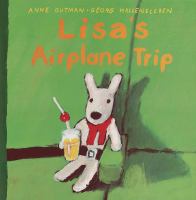 Lisa's Airplane Trip by Anne Gutman – JE Gutman
"When Lisa, a toy animal, takes an airplane across the ocean, traveling by herself for the first time, she watches a movie, has a meal, and gets a tour of the cockpit."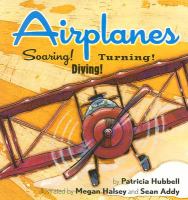 Airplanes: Soaring! Turning! Diving! by Patricia Hubbell – JE Hubbell
"Illustrations and rhyming text celebrate different kinds of airplanes and what they can do."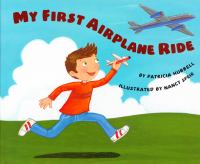 My First Airplane Ride by Patricia Hubbell – JE Hubbell
"Follows a young traveler through a first airplane ride, from takeoff to touchdown."
Wind Flyers by Angela Johnson – JE Johnson
"Three-time Coretta Scott King Award-winning author Angela Johnson and New York Times bestselling illustrator Loren Long invite readers to ponder a band of undercelebrated World War II heroes — the Tuskegee Airmen. With fleeting prose and transcendent imagery, this book by the masterful author/artist duo reveals how a boy's love of flight takes him on a journey from the dusty dirt roads of Alabama to the war-torn skies of Europe and into the hearts of those who are only now beginning to understand the part these brave souls played in the history of America."
A Plane Goes Ka-Zoom! by Jonathan London – JE London
"Planes can do all sorts of things: they can carry people, they can carry pets; their engines roar; their lights twinkle. So join this brother and sister duo as they check out all sorts of planes and fly the friendly skies. An ideal choice for preschoolers, especially those who love vehicles and things that go!"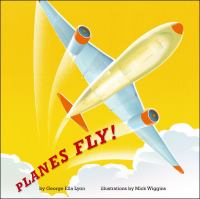 Planes Fly! by George Ella Lyon – JE Lyon
"Illustrations and easy-to-read rhyming text celebrate different kinds of planes, their instruments, what they carry, and what it is like to go for a flight."
The Glorious Flight: Across the Channel with Louis Bleriot July 25, 1909 by Alice Provensen – JE Provensen
"Winner of the Caldecott Medal, this stunningly illustrated book depicts Louis Bleriot's historic first cross-Channel flight."
These books, and many more, are available at the Handley Regional Library. We have compiled a booklist of many of our titles about planes, pilots, and flying for you here: Airplanes Booklist.  Our other booklists of titles on popular subjects are also available right here on the blog on the Booklists page and are also available in hardcopy at your library.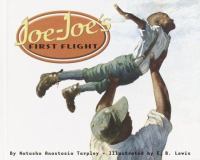 Joe-Joe's First Flight by Natasha Tarpley – JE Tarpley
"Joe-Joe's father works at the local airport, one of the first in the area, at a time when segregation rules. Even though the men who work at the airport, including Joe-Joe's dad, were promised flying jobs, the owner refuses to let them fly. The town of Blind Eye has lost hope over the men's heartbreak and the injustice being done to them, so much so that the moon won't shine down on it any longer. More than anything, Joe-Joe wants to bring the moon back to Blind Eye so he can return hope to the townspeople. This is an extraordinary storybook about lost hope and what can happen when dreams are allowed to flourish."
Descriptions in quotation marks are provided by publishers.
If your little ones are loving the airplane stories, we have more titles available here on our Airplanes Booklist.  These books, and many more, are available at the Handley Regional Library.
Songs and Poems to Share:
Airplane
The airplane has great big wings
(arms outstretched)
Its propeller spins around and sings, "Vvvvvv!"
(make one arm go round)
The airplane goes up
(lift arms)
The airplane goes down
(lower arms)
The airplane flies high
(arms outstretched, turn body around)
Over the town!
I'm A Little Airplane (Sing to the tune of  "I'm a Little Teapot")
I'm a little airplane,
(children raise arms at sides to shoulder height.)
Now watch me fly!
(They spin one of their arms in front of them as if it were a propeller)
Here are my instruments
From down low to up high.
(With their other arm, they reach from the ground to above their heads.)
First I get revved up.
(Children make engine noises while still spinning their arms.)
Then I can fly,
(Children raise arms to shoulder height.)
Lifting off the runway
(They start walking forward.)
Up into the sky!
The Plane (Sing to tune of "The Bear Went over the Mountain)
The plane bumped down the runway (Bounce child on knee)
The plane bumped down the runway,
The plane bumped down the runway,
As fast as it could go.
As fast as it could go.
As fast as it could go.
The plane bumped down the runway,
The plane bumped down the runway,
As fast as it could go.
(Verses continue with: )
The plane rose in the sky, (Lift child in the air) . . .
The plane flew over the mountain, ("fly" child around in the air) . . .
The plane dove toward the runway, (Lean child forward) . . .
The plane bumped down on the runway, (Bounce child on knee)
The plane bumped down on the runway
The plane bumped down on the runway,
As slow as it could go.
As slow as it could go.
As slow as it could go.
The plane bumped down on the run way,
As slow as it could go.
We hope to see you at one of Bowman Library's storytimes:
Toddler Storytime – Mondays @ 11AM
Twilight Tales – Tuesdays @ 6PM
Preschool Storytime – Wednesdays @ 11AM
Baby Storytime – Thursdays @ 11AM
Preschool Storytime – Saturdays @ 11AM
Check the calendar for storytime schedules at the Handley and Clarke County Libraries and for special events throughout the system.