Toy Stories
Brace yourselves: the toys are coming!  Get ready for the holiday onslaught with a selection of books all about kids' favorite toys and the joys of gift-giving.  Picture books about toys touch on the themes of love, gratitude, and sharing.  Here are a few classics and some new favorites that are available at the Handley Regional Library.
Books to Share: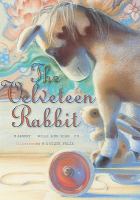 The Velveteen Rabbit by Margery Williams Bianco – JE Bianco
The classic tale of a toy who dreams of being real.
All My Toys are on the Floor by Mary Blocksma – JE Blocksma
"A little girl explains why her toys are in a big mess all over her bedroom floor."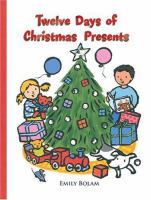 Twelve Days of Christmas Toys by Emily Bolam – JE Bolam
"A clever children's variation on a favorite song. Instead of the old-fashioned partridges, maids-a-milking, and lords-a-leaping, youngsters will find colorful hula hoops, wind-up toys, furry bears, trains-a-tooting, and jelly babies. Each adorable page builds on the one before, as the cumulative song grows and pictures of the fun gifts accumulate. The grand finale features tiny pictures of all the objects in the song, arranged from top to bottom in ascending order, forming a very special Christmas tree."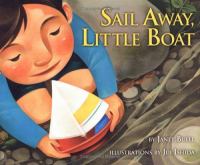 Sail Away, Little Boat by Janet Buell – JE Buell
"A toy sailboat encounters a variety of animals as it journeys down a brook, to the river, and finally to the ocean."

Toy Boat by Randall De Seve – JE De Seve
"A little boy has a toy boat. He made it out of a can, a cork, a yellow pencil, and some white cloth. The boy and his boat are inseparable, until one day when the wind pushes the toy boat out into the wide lake. Alone now, the little boat must face fierce waves, a grumpy ferry, a sassy schooner, and a growling speed boat. How the little boat misses the boy! But if he is going to survive, he must figure a way to do it on his own.Loren Long has a timeless and magical touch. As he did with The Little Engine That Could,he creates a world of toys and children that go right to the soul. Toy Boat will sail into young hearts and stay there."

Disney's Toy Story adapted by Ron Fontes – JE Disney
"The complete retelling of favorite Disney movies in a true read-aloud style."

The Christmas Gift by Emily McCully – JE McCully
"When a little mouse's treasured Christmas gift is broken, Grandpa consoles her with a toy train from his own childhood."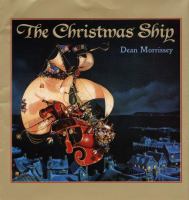 The Christmas Ship by Dean Morrissey – JE Morrissey
"With the help of animated toys, Joey and Sam the toymaker board a magical ship to help Father Christmas distribute gifts on Christmas Eve."

The Marvelous Toy by Tom Paxon – JE Paxton
"For nearly half a century, "The Marvelous Toy" – composed by the legendary singer/songwriter Tom Paxton – has enchanted children and adults alike. A simple tale about a mysterious, magical, and mystical toy that a father gives to his son – and that eventually gets passed down to the next generation – it celebrates a child's sense of wonder. . . Featuring incredible and wildly imaginative art by Steve Cox, illustrator of the award-winning Pigs Might Fly, the story is now as amazing to look at as it always has been to listen to." Be sure to check out the accompanying CD The Marvelous Toy with the song as well as a music-only singalong version.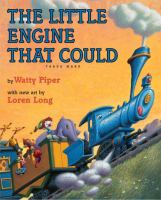 The Little Engine That Could by Watty Piper – JE Piper
Everyone loves The Little Engine That Could, that classic tale of the determined little engine that, despite its size, triumphantly pulls a train full of toys to the waiting children on the other side of a mountain. Now the great Loren Long has brilliantly re-illustrated this classic story, bringing it exuberantly to life for today's child."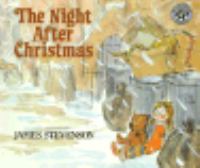 The Night After Christmas by James Stephenson – JE Stephenson
"Tossed in garbage cans after they are replaced by new toys at Christmas, a teddy bear and a doll are befriended by a stray dog."
Descriptions in quotation marks are provided by publishers.
These books, and many more, are available at the Handley Regional Library.
Sharing songs and poems with your children is an important part of preparing them for reading.  Here are a few of the songs, poems, and fingerplays we'll be sharing at Bowman Library's storytimes this week:
A Little Ball
A little ball, (form circle with thumb and finger)
A bigger ball, (form circle with hands)
A great big ball I see. (form circle with arms)
Now let's count them.
Are you ready?
One, (form circle with arms)
Two, (form circle with hands)
Three! (form circle with thumb and finger)
Teddy Bear, Teddy Bear
Teddy bear, Teddy bear,
Touch the ground.
Teddy bear, Teddy bear,
Turn around.
Teddy bear, Teddy bear,
Show your shoe.
Teddy bear, Teddy bear,
That will do.
Block City by Robert Louis Stevenson
What are you able to build with your blocks?
Castles and palaces, temples and docks.
Rain may keep raining, and others go roam,
But I can be happy and building at home.
Let the sofa be mountains, the carpet be sea,
There I'll establish a city for me:
A kirk and a mill and a palace beside,
And a harbor as well where my vessels may ride.
Great is the palace with pillar and wall,
A sort of a tower on top of it all,
And steps coming down in an orderly way
To where my toy vessels lie safe in the bay.
This one is sailing and that one is moored:
Hark to the song of the sailors on board!
And see on the steps of my palace, the kings
Coming and going with presents and things!
My Toys
I have a cuddly teddy bear; (Hug arms to chest)
I take him with me everywhere. (Spread hands wide)
A big balloon that I can blow (Cup hands to mouth; blow)
And watch it grow and grow and grow. (Move hands outward, enlarging circle)
My rag doll flops upon my bed, (Hang arms and head limply)
My tricycle is painted red. (Pedal with hands)
All the little girls and boys (Spread arms wide)
Think it's fun to play with toys. (Hug arms to chest)
Bumpin' Up and Down in My Little Red Wagon
Bumpin' up and down in my little red wagon
Bumpin' up and down in my little red wagon
Bumpin' up and down in my little red wagon
Won't you be my darling?
One wheel's off and the axel's broken…
I'm gonna fix it with my hammer…
Bumpin' up and down in my little red wagon…
We hope to see you at one of Bowman Library's storytimes:
Toddler Storytime – Mondays @ 11AM
Twilight Tales – Tuesdays @ 6PM
Preschool Storytime – Wednesdays @ 11AM
Baby Storytime – Thursdays @ 11AM
Preschool Storytime – Saturdays @ 11AM
Check the calendar for storytime schedules at the Handley and Clarke County Libraries and for special events throughout the system.