This Monday is Martin Luther King, Jr. Day.  Likely his most famous words are those from the "I have a dream" speech he made on August 28th, 1963 on the steps of the Lincoln Memorial in Washington, D.C.:
I have a dream that my four little children will one day live in a nation where they will not be judged by the color of their skin but by the content of their character.
Inspired by Dr. King's vivid dreams of a better future for his children and for all Americans, we're reflecting on the power of dreams with our storytime selections this week.  Here are a few of the books for dreamers we recommend:
Books to Share:
Cowboy dreams / by Kathi Appelt ; illustrated by Barry Root. – JE Appelt
"A little cowpoke is lulled to sleep by dreams of the sights and sounds of the Western landscape at night."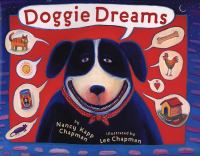 Doggie dreams by Nancy Kapp Chapman ; illustrated by Lee Chapman. – JE Chapman
"Some dogs have simple dreams of bones or chasing cats, while others envision grander things, such as flying a plane or even being president."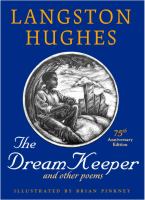 The Dream Keeper and Other Poems by Langston Hughes – J 811.52 Hug
"A collection of sixty-six poems, selected by the author for young readers, including lyrical poems, songs, and blues, many exploring the black experience."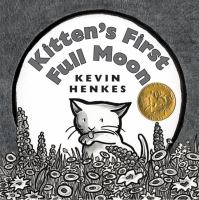 Kitten's first full moon / by Kevin Henkes – JE Henkes
"When Kitten mistakes the full moon for a bowl of milk, she ends up tired, wet, and hungry trying to reach it."
Matthew's dream / Leo Lionni. – JE Lionni
"A visit to an art museum inspires a young mouse to become a painter."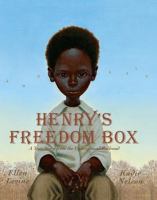 Henry's freedom box / by Ellen Levine ; illustrated by Kadir Nelson – JE Levine
"A fictionalized account of how in 1849 a Virginia slave, Henry "Box" Brown, escapes to freedom by shipping himself in a wooden crate from Richmond to Philadelphia."

Sea of Dreams by Dennis Nolan – JE Nolan
"A wordless picture book featuring a sandcastle that takes on a life of its own."

Ben's Dream by Chris Van Allsburg – JE Van Allsburg
"On a terrifically rainy day, Ben has a dream in which he and his house float by the monuments of the world, half submerged in flood water."
Baby Bear's big dreams / written by Jane Yolen ; illustrated by Melissa Sweet. – JE Yolen
"A baby bear dreams of all the wonderful things he will be able to do when he is grown, from staying up late to building a house in a honey tree."
Descriptions in quotation marks are provided by publishers.
Interested in finding more books about dreams, wonder, imagination, and hope?  Check out these booklists of more titles available from Handley Regional Library:
Dream Big – Read! Primary level (Pre-K – Grade 2) booklist
Dream Big – Read! Elementary level (Grades 3 – 5) booklist
Interested in learning more about Dr. King?  Check out our post of recommended books about his life and work: Happy Martin Luther King, Jr. Day!
Songs and Poems to Share
Sharing songs and poems with your children is an important part of preparing them for reading.  Poems and songs help them develop phonological awareness – their ability to hear that words are made up of sound parts, an important first step to understanding words are made up of letters standing for sounds.
Here are a few of the songs, poems, and fingerplays we'll be sharing at storytimes this week:
The Dream Keeper
Bring me all of your dreams,
You dreamers,
Bring me all of your
Heart melodies
That I may wrap them
In a blue cloth-cloud
Away from the too-rough fingers
Of the world. — Langston Hughes
Angus's Dreams
Dreams to see, fine dreams to sell,
Angus is coming with dreams to sell.
Hush now wee bairnie and sleep without fear,
For Angus will bring you a dream, my dear.  — George Churchill
Nighttime
How do dreams know
When to creep
Into my head
As I fall off
To sleep? — Lee Bennett Hopkins
Row, Row, Row Your Boat
Row, row, row your boat,
Gently down the stream.
Merrily, merrily, merrily, merrily,
Life is but a dream.
Twinkle, Twinkle Little Star
Twinkle, twinkle little star,
How I wonder what you are.
Up above the world so high,
Like a diamond in the sky.
Twinkle, twinkle little star,
How I wonder what you are.
I Wish I May, I Wish I Might
Star light, star bright, (hold hands up and wiggle fingers)
First star I see tonight (hold up one finger)
I wish I may, I wish I might (Extend hands to the side)
Have the wish I wish tonight. (Clasp hands together as if saying please)
What Do You Wish
What do you wish for, moon so high? (Circle arms over head)
I wish for the stars to twinkle in the sky. (Make twinkling stars with hands)
What do you wish for, giraffe so tall? (Reach up high)
I wish for a rain shower to fall. (Wiggle fingers like falling rain)
What do you wish for, jumping kangaroo? (Jump or bounce)
I wish to say, "I love you!" (Wrap arms around self, as hug)
We hope to see you at one of Bowman Library's storytimes:
Toddler Storytime – Mondays @ 11AM
Twilight Tales – Tuesdays @ 6PM
Preschool Storytime – Wednesdays @ 11AM
Baby Storytime – Thursdays @ 11AM
Preschool Storytime – Saturdays @ 11AM
Check the calendar for storytime schedules at the Handley and Clarke County Libraries and for special events throughout the system.