Hooray!  The library is open again!  We will be having our regularly scheduled storytime today at Bowman Library.  Preschool storytime will be at 11AM.
After the Blizzard of 2016, we can finally say that winter is really here!  So this week is a good time to say goodbye to some of our furry friends who will be spending the rest of the winter hibernating, buried deep under the snow. Join us at storytime to learn more about hibernation and our animal friends.
Don't forget that we're also having our annual Bowman Bill Groundhog Day celebration this Saturday at 11AM.  Join us for groundhog crafts, stories, songs, and a visit from a real live groundhog as we wait to find out if he will see his shadow.
Here are a few of the stories, poems, and songs that we'll be sharing this week, so you can keep singing, playing, and reading with your little ones at home.
Books to Share: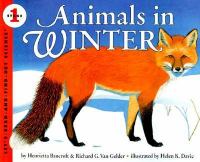 Animals in winter / by Henrietta Bancroft and Richard G. Van Gelder. – J591.54 Ban
"Describes the many different ways animals cope with winter, including migration, hibernation, and food storage."
Bear dreams by Elisha Cooper – JE Cooper
"After a bear cub persuades his friends to play with him instead of hibernating, he gets very tired and falls asleep."
Sleepy bear by Lydia Dabcovich. – JE Dabcovich
"Shows Bear getting ready for his long winter's nap, or hibernation, and his springtime awakening."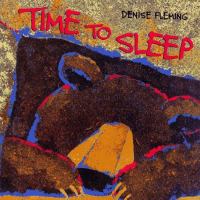 Time to sleep by Denise Fleming. – JE Fleming
"When Bear notices that winter is nearly here he hurries to tell Snail, after which each animal tells another until finally the already sleeping Bear is awakened in his den with the news."
Old Bear by Kevin Henkes – JE Henkes
"When Old Bear falls asleep for the winter, he has a dream that he is a cub again, enjoying each of the four seasons."
Hibernation station by Michelle Meadows ; illustrated by Kurt Cyrus. – JE Meadows
"Rhyming text and pictures introduce the reader to a variety of animals as they try to snuggle in to sleep."
Over and under the snow / by Kate Messner. – JE Messner
The story follows a boy as he explores a snowy day, learning about what the animals are doing in winter.  With a delicate palette of colors, the inventive cut-away illustrations reveal the secret world of animals under the snow.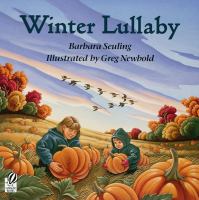 Winter lullaby by Barbara Seuling ; illustrated by Greg Newbold – JE Seuling
"Depicts the ways various animals spend the cold months of winter, from bats sleeping in caverns to fish swimming deeper in lakes where the water is warmer."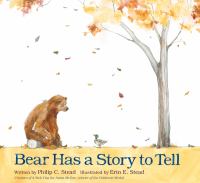 Bear Has A Story to Tell by Philip C. Stead; Illustrated by Erin E. Stead – JE Stead and J CD/Book Stead
"Bear, with the help of his animal friends, remembers the story he had hoped to tell before the onset of winter."  Available as a picture book and has a picture book/CD combination for reading along with the audiobook.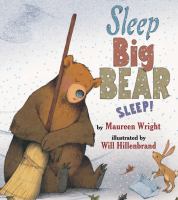 Sleep, Big Bear, sleep! by Maureen Wright ; illustrated by Will Hillenbrand. – JE Wright
"As winter comes and Big Bear prepares to hibernate, he keeps thinking he hears Old Man Winter giving him exhausting orders that prevent him from sleeping."
These books, and many more, are available at the Handley Regional Library.  Interested in more books about hibernation?  Check out the rest of our collection on our booklist: Hibernation.   Many of our collections of books on popular subjects are also available right here on the blog on the Booklists page and are also available in hardcopy at your library.
Songs, Poems, and Fingerplays to Share:
There was a little bear who lived in a cave,
Everyone he saw – he scared away.
He growled at a rabbit
He growled at a bee
He growled at a beaver
And he growled at me.
Well, he scared the rabbit
He scared the bee
He scared the beaver
But he didn't scare me!
Mr. Bear
( To the tune of "If you're happy and you know it")
Mr. Bear says all he wants to do is sleep.
Sleep! Sleep! (while clapping)
When the winter comes and snow is very deep.
Deep! Deep! (while clapping)
He will curl up in his den,
And we probably won't see him,
'Til the spring and that's when all he'll do is eat!
Yum! Yum! (rub tummy)
Hibernation (Tune: "Alouette")
Hibernation, time for hibernation.
Hibernation, time to go to sleep.
In the winter, where's the bear?
Sleeping in its log or lair.
Where's the bear? Log or lair. OH!
In the winter, where's the frog?
Sleeping by a pond or log.
Where's the frog? Pond or log. OH!
In the winter, where's the snake?
In the mud beneath the lake.
Where's the snake? Beneath the lake. OH!
In the winter, where's the bat?
In a cave is where it's at.
Where's the bat? Cave it's at! OH!
Sleepy Bear (Tune: Thumbkin)
Where is Bear? Where is Bear?
Here I am. Here I am.
How are you this winter?
Very tired, thank you.
Go to sleep. Go to sleep.
Here is a Cave Fingerplay
Here is a cave. Inside is a bear. (bend fingers on one hand; put thumb inside)
Now he comes out to get some fresh air. (pop out thumb)
He stays out all summer in sunshine and heat.
He hunts in the forest for berries to eat. (move thumb in a circle)
When snow starts to fall, he hurries inside
His warm little cave and there he will hide. (put thumb inside fingers)
Snow covers the cave like a fluffy white rug.
Inside the bear sleeps all cozy and snug. (place one hand over the other)
Mr. Groundhog's Day
Mr. Groundhog is inside his home, warm and fast asleep.
(Lie head down on hands and close eyes)
But he'll wake up and poke his head out for one tiny peep.
(Slowly stand up and look around cautiously)
If the day is cloudy and cool, He'll go for a stroll.
(Walk around slowly, looking at everything)
But if the sun is shining bright – Pop! Back in his hole!
(Jump into a curled-up position with hands covering head.)
We hope to see you at storytime!