There's nothing better to do on a snowy Winter day than Snuggle up with a book and the ones you love, isn't there?  Well, if you were looking for an excuse to do just that, you're in luck – that's just what Winter Reading 2016 is encouraging you to do!  Snuggle with a book to read, learn, earn badges and prizes, play games, and have fun!
We kicked off the Handley Regional Library Winter Reading Program last Saturday at our Bowman Bill Groundhog Day celebration.  You'll be able to register online from home or at the library at the following link: Winter Reading or from the button on the Handley Regional Library website.  Once you're registered, don't forget to stop by one of the library branches to pick up your registration packet!  Track books online or with your sticker sheet and return to the library to claim your prizes for 12 and 24 books read.
The Winter Reading Program will run from February 1st – 29th.  Read to yourself or read together to earn prizes, badges, and play games in our online registration system.  You can even join us at HRL for a special visit with the Chick-fil-A cow at the following times and locations:
Clarke County Library
February 2nd Preschool Time @ 10:30 am
Bowman Library
February 3rd Preschool Time @ 11 am
Handley Library
February 5th Dance Party @ 10:30 am
Thanks to our partner, Chick-fil-A, we will also have the following special events during February:
Mommy & Me: February 16th 9:30 am -1:30 pm Chick-fil-A @ Rutherford Crossing Storytime with Youth Services Librarian, Donna Hughes
Reading Night Finale: February 29th 5:00 pm – 7:00 pm Chick-fil-A @ Pleasant Valley & Rutherford Crossing All children will receive a goody for attending!
For more information, contact the Youth Services Staff at Handley Regional Library or email dhughes@handleyregional.org.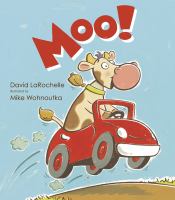 This year's theme and artwork is based on the book Moo! by David LaRochelle, illustrated by Mike Wohnoutka, available at the Handley Regional Library. With thanks to our partners, Friends of the Handley Regional Library and Chick-fil-A Pleasant Valley Road and Chick-fil-A Rutherford Crossing.