Our Winter Reading Kickoff continues this week with cow-themed storytimes.  Be sure to sign up for Winter Reading by clicking the Winter Reading button on the Handley Regional Library homepage or at any of our library locations!
Animal noises never get old for the younger set.  Indulge with them to their heart's content with this cow-themed set of books, poems, and songs from HRL's storytimes this week.
Books to Share:


Barnyard dance! by Sandra Boynton – JE Boynton (Board Book)
"A bespectacled fiddle-playing cow and a pig twirling a sheep are featured in a barnyard dance."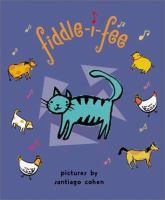 Fiddle-i-fee pictures by Santiago Cohen. – JE Cohen (Board Book)
"Colorful illustrations of various farm animals accompanies the words to a familiar nursery rhyme and song."
Click, clack, moo : cows that type by Doreen Cronin ; pictures by Betsy Lewin. – JE Lewin
"When Farmer Brown's cows find a typewriter in the barn they start making demands, and go on strike when the farmer refuses to give them what they want."
The cow who clucked by Denise Fleming. – JE Fleming
"When a cow loses her moo, she searches to see if another animal in the barn has it."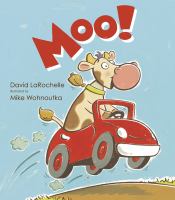 Moo! by David LaRochelle ; illustrated by Mike Wohnoutka. – JE LaRochelle
"When Cow gets her hooves on the farmer's car, she takes it for a wild ride through the country."
Moo moo, brown cow written by Jakki Wood ; illustrated by Rog Bonner. – JE Wood (Board Book)
"Readers learn about numbers and colors as a lively kitten visits the barnyard asking mother animals about their babies."
Song and Poems to Share: 
The Cows on the Farm  
(Tune: "The Wheels on the Bus")
The cows on the farm go "Moo, moo, moo,
Moo, moo, moo,
Moo, moo, moo."
The cows on the farm go "Moo, moo moo,"
All around the farm.
Hey, Diddle Diddle
Hey, diddle, diddle,
The cat and the fiddle,
The cow jumped over the moon;
The little dog laughed
To see such sport,
And the dish ran away with the spoon.
I Never Saw A Purple Cow
I never saw a purple cow.
I never hope to see one.
But I can tell you anyhow
I'd rather see than be one!
Fiddle-I-Fee
I had a cat, my cat pleased me
Fed my cat under yonder tree
My cat says, "Fiddle-i-fee"
I had a hen, my hen pleased me
Fed my hen under yonder tree
My hen says, "chimmy-chuck, chimmy-chuck"
My cat says, "Fiddle-i-fee"
I had a duck, my duck pleased me
Fed my duck under yonder tree
My duck says, "quack, quack"
My hen says, "shimmy-shack, shimmy-shack"
My cat says, "Fiddle-i-fee"
I had a cow, my cow pleased me
Fed my cow under yonder tree
My cow says, "moo, moo"
My duck says, "quack, quack"
My hen says, "shimmy-shack, shimmy-shack"
My cat says, "Fiddle-i-fee"
Continue verses, adding other farm animals:
My sheep says, "baa, baa"
My dog says, "bow, wow"
My goose says, "hissy, hissy"
My pig says, "griffy, griffy"

When Cows Get Up in the Morning

When cows get up in the morning
They always say "Good Day!"
When cows get up in the morning
They always say "Good Day!"
They say:
Moo! Moo!
That's how they say "Good Day"
They say:
Moo! Moo!
That's how they say "Good Day"