Happy Valentine's Day!  We in Youth Services love our patrons and love introducing them to the joys of a  good book.  Here are a few heartwarming books, poems, and songs we've like to share with you for Valentine's Day.
Books to Share: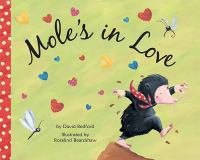 Mole's in love by David Bedford ; illustrated by Rosalind Beardshaw. – JE Bedford
"Morris the mole–who's a bit nearsighted–goes to the farm in search of love, but what he finds at the end of his nose are some very silly near misses, until love finally finds him."
Valentine Mice! by Bethany Roberts – JE Roberts
"An energetic group of mice deliver valentines to the other animals."
Valentine's Day story by Anne Rockwell ; pictures by Lizzy Rockwell. – JE Rockwell
"The children in Mrs. Madoff's class make special Valentine's cards to send to a friend in Japan and to share at their classroom celebration."
Secret Valentine by Catherine Stock – JE Stock
"A child makes valentines for her family and then adds a special name to her list. On Valentine's Day she receives a secret valentine in return."
Song and Poems to Share: 
For Valentine's Day
Flowers are sweet.
That is true. (nod head)
But for my Valentine, (point at self)
I'll choose you! (point at someone else)
And you and you and you! (point at everyone!)
The Queen of Hearts 
The Queen of Hearts
She made some tarts,
All on a summer's day.
The Knave of Hearts,
He stole the tarts,
And took them clean away.
The King of Hearts,
Called for the tarts,
And told the Knave no more.
The Knave of Hearts,
Brought back the tarts,
And vowed he's steal no more.
My Valentine
My Valentine is red. (nod head)
My Valentine is blue. (point to self)
We'll cut and cut (pretend to cut)
And glue and glue (pretend to glue)
Then send it home to you (point at children one by one)
and you and you.