Handley Regional Library is putting a special focus on music in our storytimes this week because March is Music in Our Schools Month, dedicated to the exploring the benefits of high quality musical education.
As parents and caregivers, you've probably noticed that music and singing is always a huge part of our early literacy storytimes at the Handley Regional Library.  Singing has been identified as one of the 5 Practices that every child needs to get ready to read, listen, and write.  There are many benefits for early learners from music, including fostering physical, emotional, social and cognitive development.  Fortunately, we don't have to have perfect voices and concert-level vocal skills to get the benefits of music and singing – just a willingness to have fun, play with sound and language, and be joyful together.
Here are a few of the stories, poems, and songs that we'll be sharing this week, so you can keep singing, playing, and reading with your little ones at home.
Books to Share:  
There are so many books with musical themes!  This booklist focuses on books that introduce children to different musical genres and styles.
My family plays music / by Judy Cox ; illustrated by Elbrite Brown – JE Cox
"A musical family with talents for playing a variety of instruments enjoys getting together to celebrate."  The child narrator takes us on a journey through musical genres and instruments by introducing each family member and the different music he or she plays.
Bring on that beat written and illustrated by Rachel Isadora. – JE Isadora
"Illustrations and rhyming text evoke the rhythms of jazz music."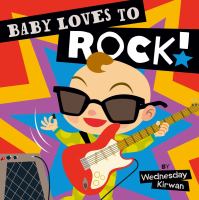 Baby loves to rock! / by Wednesday Kirwan – JE Kirwan (Board Book)
"Humorous text and colorful illustrations fill the pages of Baby Loves to Rock! It is full of funny puns and rhymes about a variety of comical animals enjoying different genres of music. On board pages."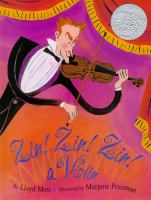 Zin! Zin! Zin! a Violin by Lloyd Moss – JE Moss
Exuberant, Caldecott Medal-winning art sets the tone, and zippy poems introduce ten musical instruments one by one as they gradually come together in a performance.
M is for Melody by Kathy-Jo Wargin – JE Wargin
This alphabet book makes a musical journey through the alphabet, exploring genres, instruments, musical terms, and music history.  The pairing of short poems for each letter with longer, more advanced expository text make this a versatile book with appeal for both older and younger readers.

Jazz Baby by Lisa Wheeler – JE Wheeler
"Baby and his family make some jazzy music."  A great way to introduce kids to jazz, this spoken-word poem perfectly conveys the rhythm and beat of jazz music.
These books, and many more, are available at the Handley Regional Library.  Many of our collections of books on popular subjects are also available right here on the blog on the Booklists page and are also available in hardcopy at your library.
Songs, Poems, and Fingerplays to Share:
Charlie Chaplin Went to France
(For babies, lay on back in front of you, toddlers sit on your lap)
Charlie Chaplin went to France.
To teach the ladies how to dance.
First he did the rhumba (Move child's knees back and forth)
Then he did the kicks (Kick child's legs)
Then he did the samba (Put child's legs together and move up and down)
Then he did the splits. (Gently move child's legs apart and back together)
Sing, Dance, and Play
(Bounce or rock or clap along)
Mommy and I dance and sing,
Daddy and I laugh and play.
Mommy, Daddy, and me,
Dance and sing, laugh and play,
kiss and hug (give hugs and kisses)
A zillion times a day!
The Finger Band (Recite or sing to Tune of "All Around the Mulberry Bush")
(Start with your hands behind your back and wiggle them as you slowly bring them in front.)
The finger band is coming to town,
Coming to town, coming to town.
The finger band is coming to town
So early in the morning.
This is the way they wear their hats  (Dance fingers on child's head)
Wear their hats, wear their hats.
This is the way we wear their hats,
So early in the morning.
This is the way they beat their drum (pat baby's tummy like a drum)
Beat their drum, beat their drum.
This is the way they beat their drum,
So early in the morning.
The finger band is going away, (Slowly wiggle fingers behind you as you lower your voice to a whisper.)
Going away, going away.
The finger band is going away
So early in the morning.
We hope to see you at storytime!
Bowman Library
Toddler Time – Mondays @ 11AM
Twilight Tales – Tuesdays @ 6PM
Preschool Time – Wednesdays @ 11AM
Baby Time – Thursdays @ 11AM
Preschool Time – Saturdays @ 11AM
Clarke County Library
Tuesdays and Thursdays @ 10:30AM – Preschool Time
Handley Library
Mondays @ 10:30AM – Preschool Time
Tuesdays @ 10:30AM – Baby and Me
Wednesday, Jan. 20 @ 6PM – Pajama Time
Thursdays @ 10:30AM – Toddler Time
Check the calendar for more children's programs and special events throughout the system.
Three Little Kittens artwork courtesy ClipArtETC, a project of the Florida Center for Instructional Technology. ClipArt ETC is a part of the Educational Technology Clearinghouse and is produced by the Florida Center for Instructional Technology, College of Education, University of South Florida.