A few weeks ago, we posted about the 2016 John Newbery Medal winners. Since today is the birthday of Randolph Caldecott, we'd like to introduce to you the 2016 Caldecott Medal Winners.  The winners are selected by the American Library Association Caldecott Medal committee and the award is given for the most distinguished American picture book for children.  Learn more about the Caldecott Medal and its history here: Caldecott Medal Home Page.
2016 Caldecott Medal Winner: 
Finding Winnie : the true story of the world's most famous bear by Lindsay Mattick ; illustrated by Sophie Blackall. – JE Mattick
"A woman tells her young son the true story of how his great-great-grandfather, Captain Harry Colebourn, rescued and learned to love a bear cub in 1914 as he was on his way to take care of soldiers' horses during World War I, and the bear became the inspiration for A.A. Milne's Winnie-the-Pooh."
Caldecott Honor Books:

"Trombone Shorty," illustrated by Bryan Collier, written by Troy Andrews and published by Abrams Books for Young Readers, an imprint of ABRAMS
"In this autobiography, Trombone Shorty reminisces about his early life in the jazz music scene of his beloved hometown of New Orleans. Through Collier's paintings and collage illustrations, the story's authentic, heartfelt tone is masterfully realized."

"Waiting," illustrated and written by Kevin Henkes – JE Henkes
"Waiting delivers an intimate story of five figurines, each anticipating the wonder of everyday moments. Using rich brown lines and a soft pastel palette, Henkes invites young readers to slow down and explore a range of emotions in a world on a windowsill."
"Voice of Freedom: Fannie Lou Hamer, Spirit of the Civil Rights Movement," illustrated by Ekua Holmes, written by Carole Boston Weatherford and published by Candlewick Press.
"In this biography in verse, Ekua Holmes' illustrations provide children with an intensely visual encounter with Civil Rights icon Fannie Lou Hamer. The repetition of colors and motifs within the richly layered collage create complex images that capture Hamer's power and bravery."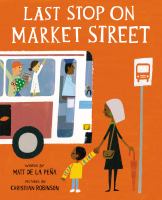 "Last Stop on Market Street," illustrated by Christian Robinson, written by Matt de le Peña – JE de la Pena
"A young boy rides the bus across town with his grandmother and learns to appreciate the beauty in everyday things."  You'll notice that Last Stop on Market Street has been doubly awarded – winner of the Newberry award for its story, it has also been recognized by this Caldecott Honor award for its illustrations.
Handley Regional Library has many honors and medal-winners from past years.  We have compiled a booklist of past winners for your convenience here: Caldecott Award Winners.