This week's storytime theme is Express Yourself with Art!  Experience the joys of creativity through stories about art, painting, drawing, and color.  Here are a few of the stories, poems, and songs that we'll be sharing this week, so you can keep singing, playing, and reading with your little ones at home.
Books to Share: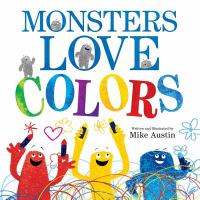 Monsters love colors written and illustrated by Mike Austin. – JE Austin
"Playful monsters combine their favorite crayons, red, yellow, and blue, to create new colors, including one never before seen."
I ain't gonna paint no more! by Karen Beaumont ; illustrated by David Catrow.– JE Beaumont
"In the rhythm of a familiar folk song, a child cannot resist adding one more dab of paint in surprising places."
Hen's pens by Phil Roxbee Cox ; illustrated by Stephen Cartwright ; edited by Jenny Tyler. – JE Cox
"Hen uses her colored pens to draw on any surface she can find on the farm, but what she likes best is to make zigzag patterns, in a text with movable flaps."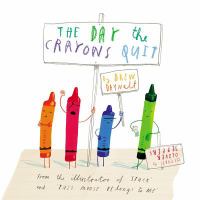 The day the crayons quit by Drew Daywalt ; illustrated by Oliver Jeffers. – JE Daywalt
"When Duncan arrives at school one morning, he finds a stack of letters, one from each of his crayons, complaining about how he uses them."
Don't miss the sequel either, as the Crayons continue their hilarious correspondence with Duncan: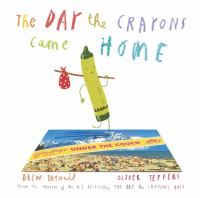 The day the crayons came home by Drew Daywalt ; pictures by Oliver Jeffers. – JE Daywalt
"One day, Duncan is happily coloring with his crayons when a stack of postcards arrives in the mail from his former crayons, each of which has run away or been left behind, and all of which want to come home."
Warthogs paint : a messy color book by Pamela Duncan Edwards ; illustrated by Henry Cole. – JE Edwards
"As some warthogs spend a rainy day painting their kitchen, they make a mess and learn about mixing colors."
A piece of chalk by Jennifer A. Ericsson ; illustrated by Michelle Shapiro. – JE Ericsson
"A little girl creates a colored chalk drawing on her driveway."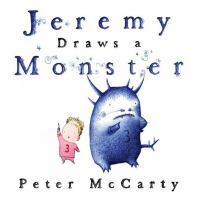 Jeremy draws a monster by Peter McCarty. – JE McCarty
"A young boy who spends most of his time alone in his bedroom makes new friends after the monster in his drawing becomes a monstrous nuisance."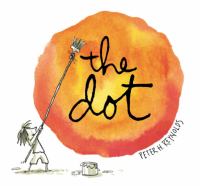 The Dot by Peter Reynolds – JE Reynolds, J CD/BOOK Reynolds, (also available as an electronic resource at the link)
"Vashti believes that she cannot draw, but her art teacher's encouragement leads her to change her mind."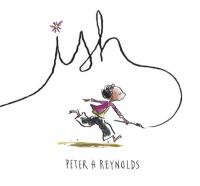 Ish by Peter Reynolds – JE Reynolds
"Ramon loses confidence in his ability to draw, but his sister gives him a new perspective on things."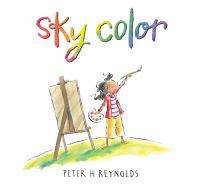 Sky color by Peter H. Reynolds. – JE Reynolds
"Marisol loves to paint. So when her teacher asks her to help make a mural for the school library, she can't wait to begin! But wait-how can Marisol ever make a sky without blue paint? After gazing out the bus window and watching from her porch as day turns into night, she closes her eyes and starts to dream."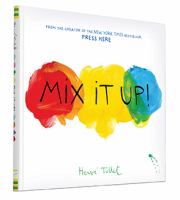 Mix it up! by Hervé Tullet ; translated by Christopher Franceschelli. – JE Tullet
"Using no special effects other than the reader's imagination, simple directions lead the reader to experiment with mixing and changing colors on the printed page."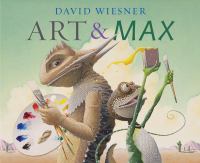 Art & Max by David Wiesner – JE Wiesner
"Max wants to be an artist like Arthur, but his first attempt at using a paintbrush sends the two friends on a whirlwind trip through various media, with unexpected consequences."
Dog loves drawing by Louise Yates. – JE Yates
"Dog loves drawing so much that he draws his very own adventure."
These books, and many more, are available at the Handley Regional Library.  Many of our collections of books on popular subjects are also available right here on the blog on the Booklists page and are also available in hardcopy at your library.
Songs, Poems, and Fingerplays to Share:
Five Little Paintbrushes
Five little brushes went out to paint.
One painted white, then ran away in fright.
The second painted red and jumped under the bed.
The third painted green then fled the scene.
The fourth painted black then ran around in back.
The fifth painted yellow and felt so mellow,
He invited everyone back to begin again.
Cinco Brochitas
Cinco brochitas salieron a pintar
Una pinto blanco, ya todas les gusto tanto
La segunda pinto rojo y brinco sin mucho enojo
La tercera pinto verde y no lo hizo adrede.
La cuarta pinto negro y todas corrieron del miedo.
La quinta pinto amarillo y en eso aparecio un grillo.
Y ella invito a todas a comenzar otra vez.
This is the Way We Paint!

This is the way we stir the paint, stir the paint, stir the paint (make stirring motions)
This is the way we stir the paint so early in the morning.
This is the way we . . . (dip our brush, paint the paper, blow it dry, frame the picture)
I Know the Colors (Tune of Twinkle, Twinkle, Little Star)

I know the colors for painting fun
Green like grass and yellow sun
An orange pumpkin and white snow
A red rose and a black crow
Blue like a mailbox, brown like an ape
A pink pig and some purple grapes
Colorful Dots Song
If you have a red dot, red dot, red dot,
If you have a red dot, please bring it up!
If you have a green dot, green dot, green dot,
If you have a green dot, please bring it up!
If you have a (pink, white, brown, blue, etc) dot . . .
We hope to see you at storytime!
Bowman Library
Toddler Time – Mondays @ 11AM
Twilight Tales – Tuesdays @ 6PM
Preschool Time – Wednesdays @ 11AM
Baby Time – Thursdays @ 11AM
Preschool Time – Saturdays @ 11AM
Clarke County Library
Tuesdays and Thursdays @ 10:30AM – Preschool Time
Handley Library
Mondays @ 10:30AM – Preschool Time
Tuesdays @ 10:30AM – Baby and Me
Wednesday, Jan. 20 @ 6PM – Pajama Time
Thursdays @ 10:30AM – Toddler Time
Check the calendar for more children's programs and special events throughout the system.