March is Youth Art Month.  Picture books are an incredible way to introduce children to lots of different styles of art.  To inspire you, here's a collection of picture books about great artists.
Camille and the Sunflowers by Lawrence Anholt – JE Anholt
"Despite the derision of their neighbors, a young French boy and his family befriend the lonely painter who comes to their town and begin to admire his unusual paintings."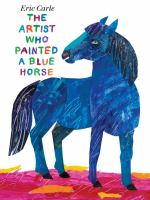 The Artist Who Painted a Blue Horse by Eric Carle – JE Carle
"Rather than use the same old colors, a child paints animals and objects in a variety of different hues. Includes biographical information about the German painter Franz Marc, who created unconventional animal paintings in the early 1900s."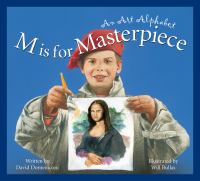 M is for masterpiece : an art alphabet / written by David Domeniconi ; illustrated by Will Bullas. – JE Domeniconi
"While introducing readers to famous artists, mediums, tools, and techniques, this A-Z pictorial uses simple poetry to introduce topics such as color, Easter Island, impressionism, Frida Kahlo, and landscape. Each letter topic also includes detailed expository text."
A boy named Giotto by Paolo Guarnieri ; pictures by Bimba Landmann ; translated by Jonathan Galassi – JE Guarnieri
"Eight-year-old Giotto the shepherd boy confesses his dream of becoming an artist to the painter Cimabue, who teaches him how to make marvelous pigments from minerals, flowers, and eggs and takes him on as his pupil."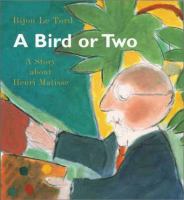 A bird or two : a story about Henri Matisse written and illustrated by Bijou Le Tord – JE Le Tord
"Simple text and bright illustrations describe the work of French painter, Henri Matisse, particularly his joyful use of color."
The iridescence of birds by Patricia MacLachlan ; illustrated by Hadley Hooper. – JE MacLachlan
"If you were a boy named Henri Matisse who lived in a dreary town in northern France, what would your life be like? Would it be full of color and art? Full of lines and dancing figures?
Find out in this beautiful, unusual picture book about one of the world's most famous and influential artists by acclaimed author and Newbery Medal-winning Patricia MacLachlan and innovative illustrator Hadley Hooper."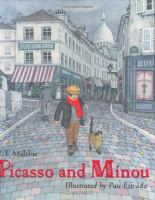 Picasso and Minou by P.I. Maltbie – JE Maltbie
"The artist Pablo Picasso's cat Minou influences him to discontinue his Blue Period style of painting to begin creating works that will sell more quickly. Includes brief notes on Picasso's life and work."
Katie meets the Impressionists by James Mayhew. – JE Mayhew
"On a visit to the museum, Katie climbs into five Impressionist paintings and has wonderful adventures."
Dancing with Degas by Julie Merberg and Suzanne Bober – JE Merberg (Board Book)
"Provides a simple introduction to French artist Edgar Degas and his pastel paintings of ballerinas."
The Princess and the Peacocks by Linda Merrill – JE Merrill
"A princess in a portrait by the famous American painter, James McNeill Whistler, tells how he transforms the dreary room where she hangs in his wealthy patron's house in London into the spectacular Peacock Room."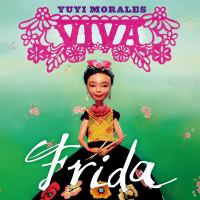 Viva Frida by Yuyi Morales – JE Morales
"Frida Kahlo, one of the world's most famous and unusual artists is revered around the world. Her life was filled with laughter, love, and tragedy, all of which influenced what she painted on her canvases.
Distinguished author/illustrator Yuyi Morales illuminates Frida's life and work in this elegant and fascinating book."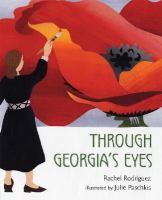 Through Georgia's eyes by Rachel Rodríguez ; illustrated by Julie Paschkis. – JE Rodriguez
"Georgia O'Keefe saw the world differently from most people. As a child she roamed the prairie with a sketch pad in hand, struggling to capture on paper what she saw all around her. At art school she learned to speak in paint on canvas. Living in New York, Georgia felt confined by city life. She longed for inspiration, for vast expanses of space, and she found them both in the red hills and silent deserts of New Mexico. Lyrical and vivid, this is a portrait of an exceptional artist, a woman whose eyes were open to the wonder of the world."
The noisy paint box : the colors and sounds of Kandinsky's abstract art / by Barb Rosenstock ; illustrated by Mary GrandPre. – JE Rosenstock
"In this exuberant celebration of creativity, Barb Rosenstock and Mary GrandPré tell the fascinating story of Vasily Kandinsky, one of the very first painters of abstract art. Throughout his life, Kandinsky experienced colors as sounds, and sounds as colors–and bold, groundbreaking works burst forth from his noisy paint box."  A Caldecott Honor Book.
The yellow house : Vincent van Gogh and Paul Gauguin side by side / by Susan Goldman Rubin ; illustrated by Jos. A. Smith. – JE Rubin
"Beginning with their ambition to found an artists' colony and ending with each artist going his own way, this is the story of how, during autumn 1888, Van Gogh and Gauguin came to live together for two months, in Arles, in the south of France. It is not only the story of their friendship, it is also about how artists generate and share ideas and how they work. While they lived together, these artists had very different beliefs about art, which can be demonstrated through the subjects they painted, side by side. Reproductions of ten paintings by the men are included, so that their styles are approaches are evident. The contrast between the men (in appearance, manner and artistic approach) will provide ample material for discussion with children."
Renoir's colors by Marie Sellier. – JE Sellier (Board Book)
"Introduces colors, including pink, red, blue, and green, and presents a painting by Renoir showcasing each color."
Once upon a lily pad : froggy love in Monet's garden / by Joan Sweeney ; illustrated by Kathleen Fain. – JE Sweeney
"Hector and Henriette, the most famous frogs in France, befriend an old painter in a battered straw hat named Monet."
My name is Georgia : a portrait by Jeanette Winter. – JE Winter
"Presents, in brief text and illustrations, the life of the painter who drew much of her inspiration from nature."
Frida by Jonah Winter ; illustrated by Ana Juan. – JB Kahlo (Available in English and Spanish)
"This long-awaited companion to Jonah Winter's acclaimed DIEGO feature the paintings of young Spanish artist, Ana Juan.  This stunning picture book is the perfect gift for art enthusiasts of all ages.
Cuando su madre la deja a cargo de sus cinco hermanas, su padre la enseña a utilizar los pinceles y a colorear. Cuando una enfermedad la hace guardar cama durante meses, Frida dibuja para no aburrise. Cuando un accidente en autobús la sume en el dolor, Frida expresa su tristeza y depresión en sus pinturas. Una y otra vez, durante toda su vida, Frida Kahlo utiliza el arte para expresar sus sentimientos. Jonah Winter y Ana Juan se asoman a la vida y la obra de esta gran pintora para ofrecerle un hermoso tributo con este maravilloso libro."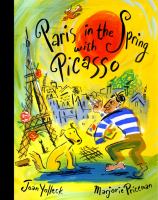 Paris in the spring with Picasso by Joan Yolleck ; illustrated by Marjorie Priceman. – JE Yolleck
"Describes how some of Paris's famous artists and writers, such as Pablo Picasso, Max Jacob, and Guillaume Apollinaire, spend their day before preparing to attend a party at Gertrude Stein's apartment."
Find all of these books in our catalog under the tag "Great Painters Booklist."  Which painter is your favorite?