Celebrate National Library Week!
April 10th – 16th is National Library Week, when we are encouraged to talk about the benefits of libraries for us as individuals and as communities.  As you can imagine, we're all about that topic!  Libraries transform us – we offer the resources to transform boredom into joy and interest, people into a community, strangers into friends.
Today we want to thank our patrons for allowing us to share the joy of reading and learning with your children.  Each week, we get watch them as they develop, grow, and transform into flourishing young men and women.  Thank you!
Here are a few of the stories, poems, and songs that we'll be sharing this week, so you can keep singing, playing, and reading with your little ones at home.
Books to Share:
See a story you'd like to take home?  View them in the library catalog here: Library Stories Booklist
Book! Book! Book! by Deborah Bruss – JE Bruss
"When the children go back to school, the animals on the farm are bored, so they go into the library in town trying to find something to do."
The Library Doors by Toni Buzzeo – JE Buzzeo
"An overview of the many activities children encounter during a visit to the library."
Five Little Monkeys Reading in Bed by Eileen Christelow – JE Christelow
"Mama has said it is time for "Lights out! Sweet dreams! No more reading in bed," but her five little monkeys cannot resist reading just a few more books to one another."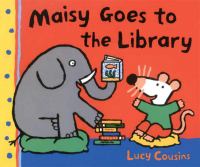 Maisy Goes to the Library by Lucy Cousins – JE Cousins
"Maisy goes to the library in search of a book about fish."
The Midnight Library by Kazuno Kohara – JE Kohara
"Once there was a library that only opened at night. Step inside and meet the little librarian and her three assistant owls."
Lola at the Library by Anna McQuinn – JE McQuinn (available as a JE picture book and as a board book)
"Every Tuesday Lola and her mother visit their local library to return and check out books, attend story readings, and share a special treat."
Reading Makes You Feel Good by Todd Parr – JE Parr
"Describes the characteristics and various advantages of reading."
Comin' Down to Storytime by Rob Reid – JE Reid
"Storytime! That's all the little barnyard animals need to hear to send them flocking to their librarian, who has some rip-roaring, song-singing, nursery-rhyming, snack-timing fun in store for them! You've never seen a storytime quite like this…and reading has never been such fun!. Set to the tune of 'She'll be comin' round the mountain when she comes.'"
Read it, Don't Eat It! by Ian Schoenherr – JE Schoenherr
"Rhyming advice on how to take care of a library book."
Dinosaur vs. the Library by Bob Shea – JE Shea
"Dinosaur is going to one of his favorite places, the library, and on the way he encounters a series of animals, including a cow, baby chicks, a turtle, and an owl, and shares his roars with each."
Born to Read by Judy Sierra – JE Sierra
"A little boy named Sam discovers the many unexpected ways in which a love of reading can come in handy, and sometimes even save the day."
Mind Your Manners B.B. Wolf by Judy Sierra – JE Sierra
"When B.B. Wolf, who now lives in the Villain Villa Retirement Residence, is invited to the library for a storybook tea, he is careful to follow the advice of his crocodile friend and impresses everyone with how polite he can be."
Library Lil by Suzanne Williams – JE Williams
"A formidable librarian makes readers not only out of the once resistant residents of her small town, but out of a tough-talking, television-watching motorcycle gang as well."
These books, and many more, are available at the Handley Regional Library.  Many of our collections of books on popular subjects are also available right here on the blog on the Booklists page and are also available in hardcopy at your library.
Songs, Poems, and Fingerplays to Share:
Five Little Books Flannelboard
Five little books at the library
Five little books as great as can be
Along comes (name) with their library card
And takes one home to read!
Four little books at the library
Four little books as great as can be
Along comes (name) with their library card
And takes one home to read!
Three . . . Two . . . One . . .
Librarian in the Town (Tune: Wheels on the Bus)
The librarian in the town says
"Read a book, Read a book, Read a book"
The librarian in the town says
"Read a book"
All day long.
These Are My Glasses
These are my glasses  (make circles with fingers)
This is my book  (hold both hands palms together in front of you)
I put on my glasses  (put finger circles up to eyes)
and open up my book  (palms together, then hinge open)
And I read, read, read,  (clap hands to rhythm)
and I look, look, look.  (clap hands to rhythm)
I put on my glasses
and open up my book.
Big Books, Little Books

Big Books, little books (hold hands wide, then close)
Short books, tall (hands down low, then up high)
Thin books, fat books, (hold up flat hands, then make fists)
I love them all. (hug self)
And lastly, to help you remember that with the help of your library, you can transform:

We hope to see you at storytime!
Bowman Library
Toddler Time – Mondays @ 11AM
Twilight Tales – Tuesdays @ 6PM
Preschool Time – Wednesdays @ 11AM
Baby Time – Thursdays @ 11AM
Preschool Time – Saturdays @ 11AM
Clarke County Library
Tuesdays and Thursdays @ 10:30AM – Preschool Time
Handley Library
Mondays @ 10:30AM – Preschool Time
Tuesdays @ 10:30AM – Baby and Me
Wednesday, Jan. 20 @ 6PM – Pajama Time
Thursdays @ 10:30AM – Toddler Time
Check the calendar for more children's programs and special events throughout the system.