A poem a day for National Poetry Month –
We Real Cool 
THE POOL PLAYERS.
SEVEN AT THE GOLDEN SHOVEL.
We real cool. We
Left school. We
Lurk late. We
Strike straight. We
Sing sin. We
Thin gin.  We
Jazz June. We
Die soon.
— Gwendolyn Brooks
Find this poem, and more in: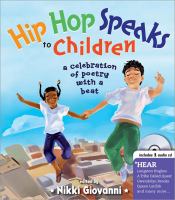 Hip hop speaks to children : a celebration of poetry with a beat editor, Nikki Giovanni ; advisory editors, Tony Medina, Willie Perdomo, Michele Scott. – J 811..008 Hip
"Like Poetry Speaks to Children, the New York Times Bestselling classic poetry book and CD that started it all, Hip Hop Speaks to Children is meant to be the beginning of a journey of discovery.
READ more than 50 remarkable poems and songs!
HEAR poetry's rhymes and rhythms from Queen Latifah to Gwendolyn Brooks, Langston Hughes to A Tribe Called Quest and more! * Also hear part of Martin Luther Kind's original "I Have a Dream" speech, followed by the remarkable live performance of the speech by Nikki Giovanni, Oni Lasana and Val Gray Ward. * The Hip Hop Speaks to Children CD contains more than 30 performances, either by the artists who created them, or as unique interpretations by admiring poets and artists.
DISCOVER Langston Hughes's elegant gospel "The Negro Speaks of Rivers," A Tribe Called Quest's playful "Ham 'N' Eggs," Sterling A. Brown's hard-luck "Long Track Blues," Gwendolyn Brooks's wake-up call "We Real Cool," Kanye West's lovely "Hey Mama," and Martin Luther King Jr.'s awe-inspiring "I Have a Dream."
This is a collection of rhymes and rhythms unlike any other poetry book!"  — from publisher's description.