May is Asian-Pacific American Heritage Month!
Take this opportunity to explore the diverse cultures and experiences of Asian Americans and Pacific Islanders with your children through picture books.  Learn more about this Heritage month at: http://asianpacificheritage.gov/ Below is a selection of books from our collection which feature Asian-American culture and history.  You can find more in our catalog by searching for the keywords "Asian-American" or looking up individual countries.
A lei for Tutu by Rebecca Nevers Fellows ; illustrated by Linda Finch. – JE Fellows
"Nahoa loves making leis with her grandmother and looks forward to helping her create a special one for Lei Day, until her grandmother becomes very ill."
Henry's first-moon birthday / by Lenore Look ; illustrated by Yumi Heo – JE Heo
"A young girl helps her grandmother with preparations for the traditional Chinese celebration to welcome her new baby brother."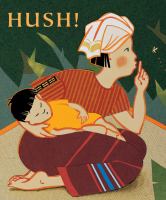 Hush! : a Thai lullaby by Minfong Ho ; pictures by Holly Meade. – JE Ho
"A lullaby which asks animals such as a lizard, monkey, and water-buffalo to be quiet and not disturb the sleeping baby."
Peek! : a Thai hide-and-seek by Minfong Ho ; illustrated by Holly Meade. – JE Ho
"A father and daughter play hide-and-seek in the midst of the animals near their house in Thailand."
Uncle Peter's amazing Chinese wedding by Lenore Look ; illustrated by Yumi Heo – JE Look
"A Chinese American girl describes the festivities of her uncle's Chinese wedding and the customs behind them."
Dumpling soup by Jama Kim Rattigan ; illustrated by Lillian Hsu-Flanders. – JE Rattigan
"A young Hawaiian girl tries to make dumplings for her family's New Year's celebration."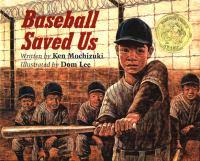 Baseball saved us by Ken Mochizuki ; illustrated by Dom Lee. – JE Mochizuki
"A Japanese American boy learns to play baseball when he and his family are forced to live in an internment camp during World War II, and his ability to play helps him after the war is over."
In the park written and illustrated by Huy Voun Lee – JE Lee
"On the first day of spring, a mother and her son go to the park where they draw Chinese characters that represent words relating to the season."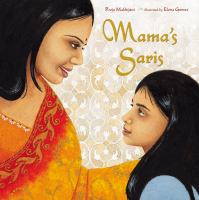 Mama's saris by Pooja Makhijani ; illustrated by Elena Gomez. – JE Makhijani
"An East Indian American daughter pleads with her mother to be allowed to wear one of her mother's colorful saris in honor of her seventh birthday."
Bee-bim bop! by Linda Sue Park ; illustrated by Ho Baek Lee. – JE Park
"A child, eager for a favorite meal, helps with the shopping, food preparation, and table setting."
Grandfather's journey by Allen Say. – JE Say
"A Japanese American man recounts his grandfather's journey to America which he later also undertakes, and the feelings of being torn by a love for two different countries."
Red is a Dragon: a book of Colors by Rosemary Thuong
"A Chinese American girl provides rhyming descriptions of the great variety of colors she sees around her, from the red of a dragon, firecrackers, and lychees to the brown of her teddy bear."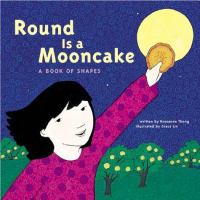 Round is a mooncake : a book of shapes by Roseanne Thong ; illustrated by Grace Lin.
"As a little girl discovers things round, square, and rectangular in her urban neighborhood, she is reminded of her Chinese American culture."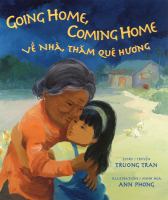 Going home, coming home by Truong Tran ; illustrations, Ann Phong = Về nhà, thăm quê hương / truyện, Truong Tran ; minh họa, Ann Phong. – JE Tran
"A young girl visits her grandmother in Vietnam where her parents were born and learns that she can call two places home."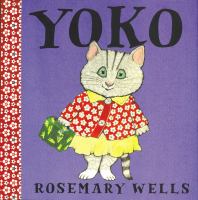 Yoko by Rosemary Wells. – JE Wells
"When Yoko brings sushi to school for lunch, her classmates make fun of what she eats–until one of them tries it for himself."
Songs:
Chinese lullabies [sound recording] : yüeh erh ming, feng erh ching / composers, Yang Xiu-lan (Yang Hsiu-lan), Shi Zhi-you (Shih Chih-yu). – J CD CHINESE
A collection of Chinese language lullabies.
Putumayo kids presents : Asian dreamland [sound recording] – J CD PUTUMAYO ASIAN
"A harmonious collection of tranquil lullabies and soothing songs"–Container.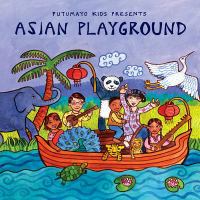 –Putumayo Kids presents : Asian playground [sound recording]. – J CD PUTAMAYO ASIAN
"Celebrate the incredible diversity of the expansive continent of Asia! Featuring 11 artists from nine countries, this collection of children's music mixes traditional sounds and instruments with modern styles. From Korean and Indian traditional music to Japanese reggae and Korean pop,Asian Playround shines a light on the international trend toward the fusion of different international music styles. It also offers fun, educational information about these rich cultures that will hopefully inspire young minds to learn more about the fascinating continent of Asia."