Whether it's your very first day at school or your first day back after summer, we have the books to get your ready for those first days.  Here are a few of our favorites:

Books to Share:  
Llama Llama misses Mama by Anna Dewdney – JE Dewdney
Llama Llama experiences separation anxiety on his first day of nursery school.
Wow! school! by Robert Neubecker – JE Neubecker
Izzy finds many things to be excited about on the first day of school.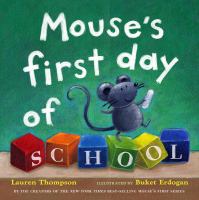 Mouse's first day of school by Lauren Thompson ; illustrated by Buket Erdogan – JE Thompson
When he goes to school, Mouse finds a world of new objects and new friends.
How do dinosaurs go to school? by Jane Yolen ; illustrated by Mark Teague – JE Yolen
Explains how little dinosaurs should behave during a typical school day.
These books, and many more, are available at the Handley Regional Library.  You can find the books listed here in the HRL catalog under the tag: Back to School Storytime Booklist.  Many of our collections of books on popular subjects are also available right here on the blog on the Booklists page and are also available in hardcopy at your library.
Songs, Poems, and Fingerplays to Share

Way Up High in the Apple Tree
Way up high in the apple tree
I saw two apples looking at me
I shook that tree as hard as I could
And down came the apples
And mmm, they were good!
Literacy Tip: Build Narrative Skills
Narrative skills include the ability to tell a story and the ability to describe things.  Practice narrative skills with your child by asking open-ended questions – ones that can't be answered by a yes or no answer.
Mary Had a Little Lamb
Mary had a little lamb,
His fleece was white as snow,
And everywhere that Mary went,
The lamb was sure to go.
He followed her to school one day,
Which was against the rule,
It made the children laugh and play
To see a lamb at school.
And so the teacher turned it out,
But still it lingered near,
And waited patiently about,
Till Mary did appear.
"Why does the lamb love Mary so?"
The eager children cry.
"Why, Mary loves the lamb, you know,"
The teacher did reply.
Wheels on the Bus
The wheels on the bus go round and round
Round and round, round and round
The wheels on the bus go round and round
All through the town.
(Roll hands over each other)
The wipers on the bus go "Swish, swish, swish . . .
The door on the bus goes open and shut . . .
The horn on the bus goes "Beep, beep, beep . . .
Where is Thumbkin?
Tune: Frere Jacques
(Begin with hands behind back)
Where is Thumbkin? Where is thumbkin?
Here I am. Here I am.
(hands forward, thumbs up)
How are you today, sir?
(Wiggle thumbs as if 'talking' to each other)
Very well, I thank you.
Run and play. Run and play.
(hands run behind back)
Continue with:
Where is Pointer? Where is Pointer?
Where is tall man? Where is tall man?
Where is ring man? Where is ring man?
Where is little man? Where is little man?

We hope to see you at storytime!
Bowman Library
Toddler Time – Mondays @ 11AM
Twilight Tales – Tuesdays @ 6PM
Preschool Time – Wednesdays @ 11AM
Baby Time – Thursdays @ 11AM
Preschool Time – Saturdays @ 11AM
Clarke County Library
Tuesdays @ 10:30AM – Preschool Time
Handley Library
Mondays @ 10:30AM – Preschool Time
Tuesdays @ 10:30AM – Baby and Me
Wednesday, Jan. 20 @ 6PM – Pajama Time
Thursdays @ 10:30AM – Toddler Time
Check the calendar for more children's programs and special events throughout the system.