Cool, wet weather and the smell of damp leaves drifting in through open windows has us thinking of the joys of Fall.  And one of those is apples! apples! everywhere!  They're in the orchards, in the grocery stores, in the farmer's markets, and certainly inside the pages of these good books and poems that we'll be sharing at our storytimes this week:

Books to Share: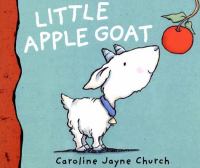 Little apple goat written and illustrated by Caroline Jayne Church – JE Church
Little Apple Goat's love of apples, cherries, and pears helps her plant an orchard for the animals on the farm.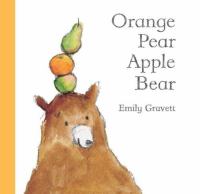 Orange pear apple bear by Emily Gravett – JE Gravett
Explores concepts of color, shape, and food using only five simple words, as a bear juggles and plays.
Ten red apples by Pat Hutchins – JE Hutchins
In rhyming verses, one animal after another neighs, moos, oinks, quacks and makes other appropriate sounds as each eats an apple from the farmer's tree.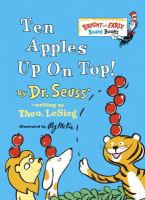 Ten apples up on top! By Theo. LeSieg. Illustrated by Roy McKie – JE LeSieg (Easy Reader)
A lion, a dog, and a tiger balance apples on their heads.
These books, and many more, are available at the Handley Regional Library.  You can find the books listed here in the HRL catalog under the tag: Apples! Storytime Booklist .  Many of our collections of books on popular subjects are also available right here on the blog on the Booklists page and are also available in hardcopy at your library.
Songs, Poems, and Fingerplays to Share
"Apples and Bananas" can be found on Raffi in concert with the Rise and Shine Band – J DVD Raffi
Apples and Bananas
I like to eat, eat, eat apples and bananas
I like to eat, eat, eat apples and bananas
I like to ate, ate, ate ay-ples and ba-nay-nays . . .
I like to eat, eat, eat ee-ples and bee-nee-nees . . .
I like to ite, ite, ite i-ples and by-ny-nys . . .
I like to ote, ote, ote oh-ples and bo-no-nos . . .
I like to oot, oot, oot oo-ples and boo-noo-noos . . .
And here's a fun version of Apples and Bananas that includes simple sign language that you can teach your baby:
What If . . . 
What if my finger were a bumble bee? (hold up finger)
What if your tummy were an apple tree? (point to tummy)
I'd go bzzzz, bzzz, bzzzzzz! (tickle tummy!)
Two Small Apples
Way up high in an apple tree (stretch arms up high)
Two small apples smiled at me (circle fingers to be apples)
I shook that tree as hard as I could (shake arms)
Down came the apples (bring down arms)
Mmm, mmmm, Good! (rub tummy)
Five Red Apples
5 (4, 3, 2, 1) red apples hanging in a tree,
The juiciest apples you ever did see.
Along came the wind, and blew real hard.
And I little apple came tumbling down.
Here Is an Apple Flannelboard Rhyme
Here is an apple (make circle with thumb and fingers)
And here is an apple (make circle with both hands)
And here's a great big apple I see. (make circle with both arms)
Now let's count the apples we have
One, two, three!
Apples
Apples here
Apples there
Apples are growing everywhere
Some are high
Some are low
You will see apples wherever you go.
Apples on the left
Apples on the right
You can see them day and night.  
Five Apples in a Basket
The first apple in the basket was a bright shiny red.
The second apple in the basket said,
"Now we two are a pair."
The third apple in the basket said,
"My, what a cozy bed!"
The fourth apple in the basket said,
"Please move over there!"
The fifth apple in the basket said,
"Oh dear, oh me, oh my! This basket looks like a pastry.  I think we are in a pie!"
Five Little Apples
Five little apples hanging in a tree,
Teasing Mr. Slinky Worm–"You can't eat me!"
Along comes Mr. Slinky Worm as quiet as can be. . .
And . . . CRUNCH!-ed that apple right out of the tree!
Craft ideas:
Craft idea and image from: http://buggyandbuddy.com/stuffed-paper-apples/
Wormy apples:  Precut apple shapes from red paper.  Punch holes around the edge.  Give each child a piece of yarn about 12 inches, with tape at the end so that they can weave the "worm" through the holes.  To make this craft more challenging for older children, you can make stuffed paper apples, stuffing two apple shapes with crumpled papers and "sewing" them together with yarn.
We hope to see you at storytime!
Bowman Library
Toddler Time – Mondays @ 11AM
Storycrafters – Tuesdays @ 6PM
Preschool Time – Wednesdays @ 11AM
Baby Time – Thursdays @ 11AM
Preschool Time – Saturdays @ 11AM
Clarke County Library
Preschool Time – Tuesdays @ 10:30AM
Handley Library
Preschool Time – Mondays @ 10:30AM
Baby and Me – Tuesdays @ 10:30AM
Toddler Time – Thursdays @ 10:30AM
Check the calendar for more children's programs and special events throughout the system.