We're Monkeyin' Around during Handley Regional Library storytimes this week.  Here are a few of the stories, poems, and songs that we'll be sharing this week, so you can keep singing, playing, and reading with your little ones at home.
Books to Share: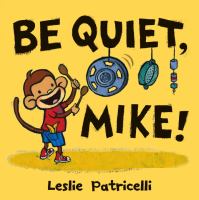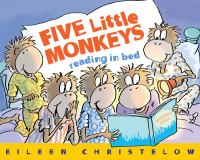 Monkey and me by Emily Gravett

"A little girl and her toy monkey love imitating different animals, everything from jumping like kangaroos to waddling like penguins! Open this book and play along with them. Can you guess what animal they are now?"

Be quiet, Mike! by Leslie Patricelli

"Monkey Mike is reprimanded for making noise when he taps pencils and clangs trash cans until he sees a drum set in the music store and puts his hands-on talents to work in a most impressive way."

Five little monkeys reading in bed by Eileen Christelow

Mama has said it is time for "Lights out! Sweet dreams! No more reading in bed," but her five little monkeys cannot resist reading just a few more books to one another.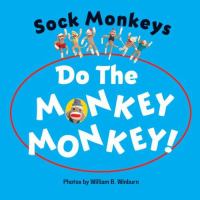 Sock monkeys do the monkey monkey! [text by Harriet Ziefert] ; photos by William B. Winburn

Sock monkeys perform the "Monkey Monkey," their version of the dance "The Hokey Pokey."

Cha-cha chimps by Julia Durango ; illustrated by Eleanor Taylor

Ten little chimps go down to the local hangout where they dance the cha-cha, but one by one they begin to do other dances with other African animals.

Tall by Jez Alborough.

Illustrations and just a few words depict how various jungle animals help a very little monkey to feel that he is tall.
In addition to these books used at our storytimes, we've created a collection of favorite monkey-themed books for you!  If you loved one of our storytime books from this week and can't remember what the title was, you can find them here: Monkey Stories at HRL
These books, and many more, are available at the Handley Regional Library.  Many of our collections of books on popular subjects are also available right here on the blog on the Booklists page and are also available in hardcopy at your library.
Songs, Poems, and Fingerplays to Share:
"No More Monkeys" can be found on: Putumayo Kids presents : animal playground [sound recording] – J CD 
Five Little Monkeys Jumping on the Bed
Five little Monkeys jumping on the bed.
One fell off and bumped her head.
Momma called the doctor
And the doctor said,
"No more monkeys, jumping on the bed!"
Four little monkeys, jumping on the bed . . .
Just Like Me
Monkeys all stand up, just like me.
Monkeys all wiggle, just like me.
Monkeys all jump up, just like me.
Monkeys all stretch high, just like me.
Monkeys all sit down, quietly.
Five Little Monkeys Sitting in a Tree
Five little monkeys sitting in a tree
Teasing Mr Alligator, "Can't catch me!"
Along comes Alligator, mouth open wide–\
Snap! A little monkey deep inside.
Four, three, two, one…
Underneath the Monkey Tree (Chant or Sing to tune of "The Muffin Man")
Come and play awhile with me,
Underneath the monkey tree.
Monkey see and monkey do,
Just like monkeys in the zoo.
(Continue verses, replacing first line with:)
Swing your tail, 1, 2, 3…
Jump around and smile like me…
Copycat Game Chant
Let's play copycat just for fun
Whatever I do, you do the same.
That's the way we play the copycat game.

Animals in the Zoo
(Tune: "The Wheels on the Bus"
The monkeys at the zoo say Ooh, ooh, Ahh,
Ooh, ooh, aah, ooh, ooh, aah.
The Monkeys at the zoo say Ooh, ooh, aah,
All day long.
Continue with other animals . . .
Little Monkeys Swinging In the Tree
Little monkeys swinging in the tree,
All hold hands and swing with me
Swing up high and swing down low
Swing in the tree, now don't let go!
Swing, swing, like I do
Swing like the monkeys in the zoo
We hope to see you at storytime!
Check the calendar for more children's programs and special events throughout the system.