Here are a few of the stories, poems, and songs about sweet treats that we'll be sharing this week, so you can keep singing, playing, and reading with your little one at home.
Books to Share: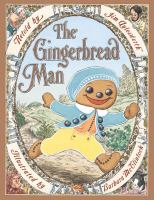 The Gingerbread Man retold by Jim Aylesworth – JE Aylesworth
"A new rendition of a beloved classic. 'Concisely written text and a jazzy refrain."
The doorbell rang by Pat Hutchins. Music by Chris Kubie.
Each time the doorbell rings, there are more people who have come to share Ma's wonderful cookies.
The wolf's chicken stew / Keiko Kasza.
A hungry wolf's attempts to fatten a chicken for his stewpot have unexpected results.
Who took the cookies from the cookie jar? / by Bonnie Lass and Philemon Sturges ; illustrated by Ashley Wolff.
A raccoon tries to find out which of his animal friends stole the cookies.
A birthday for Cow! / Jan Thomas.
Despite the objections of Pig and Mouse, Duck insists on adding a special ingredient to the cake they are making to celebrate Cow's birthday.
Mr. Cookie Baker by Monica Wellington – JE Wellington
"As sweet and satisfying as holiday baking, here is a beautiful update of Monica Wellington's Mr. Cookie Baker. In this book, youngsters can follow the process of measuring, mixing, baking, decorating, and eating cookies. With six new full-color pages, a handsome new jacket, educational tie-ins, and more recipes, this is the perfect supplement to early math units on sequencing, sorting, measuring, and telling time. The simple, straightforward behind-the-scenes view of a bakery makes it a splendid addition to Monica Wellington's other nonfiction for the very young, such as Zinnia's Flower Garden. Yummy in any season!"
These books, and many more, are available at the Handley Regional Library at the tag: #sweettreatsstorytime.  Many of our collections of books on popular subjects are also available right here on the blog on the Booklists page and are also available in hardcopy at your library.
Songs, Poems, and Fingerplays to Share:
Homemade Gingerbread
Stir a bowl of gingerbread,
Smooth and spicy brown.
Roll it with a rolling pin,
Up and up and down.
With a cookie cutter,
Make some little men.
Put them in the oven,
Till half past ten.
Five Little Cookies
Five little cookies in the bakery shop
Shining, shining with sugar on top
Along came a boy/girl
With a penny to spend
He took one…and away he ran.
(Continue with Four, Three, Two, One, Zero.)
Who Took the Cookies?
Who took the cookies from the cookie jar?
(He/She) took the cookies from the cookie jar.
Who me?
Yes, you!
Couldn't be!
Then who?
Making Cookies
I am making cookie dough. (hold out arms in a circle, like a bowl)
Round and round the beaters go. (roll hands)
Add some flour from a cup. (shake a pretend cup)
Stir and stir the batter up. (stirring motion)
Roll them, cut them nice and neat. (rolling pin motion)
Put them on a cookie sheet. (place pretend cookies)
Bake them, count them 1-2-3. (counting motion)
Serve them to my friends for tea. (take a bite!)
Acka Backa
Acka backa soda cracker,
Acka backa boo.
Acka backa soda cracker,
Up goes you! (jump up)
Acka backa soda cracker,
Acka backa boo.
Acka backa soda cracker,
I love you! (hug child)
Handy Spandy
Handy spandy, sugar and candy
We all jump in!
Handy spandy, sugar and candy
We all jump out!
Handy spandy, sugar and candy
We all jump up!
Handy spandy, sugar and candy
We all jump down! (sit down)
Signing: Cookie, in baby sign language, looks like you are using a cookie cutter, to cut out a cookie from a sheet of dough. To make the sign, take your non dominant hand and lay it out flat with palm facing up in front of your body. Bend your fingers in your dominant hand into a circle, then place them on your non-dominant hand and twist them back and forth.
Credit: http://www.babysignlanguage.com/dictionary/c/cookie/
Pat a cake
Pat a cake, pat a cake,
Baker's man
Bake me a cake as quick as you can
Roll it, and pat it, and mark it with a B,
And put it in the oven for baby and me!