December 7th marks the anniversary of the attack on Pearl Harbor.  This is a great opportunity to learn about this important turning point in the history of the United States and of World War II.  To aid in your learning, here is a selection of the books available in the Handley Regional Library's collections:
Non-fiction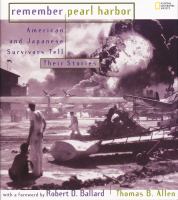 Remember Pearl Harbor : American and Japanese survivors tell their stories by Thomas B. Allen – J 940.54 All

Attack on Pearl Harbor : America enters World War II edited by Peter Darman – J 940.54 Att
"In this enthralling volume, readers learn that in the days that followed the Pearl Harbor attack, the Japanese attacked Burma, Malaya, Hong Kong, and the Philippines, and swept aside weak Allied resistance. Then, in February 1942, Great Britain suffered a catastrophe when the Japanese captured the vital port of Singapore. Period photographs and 4-color maps of battles provide readers with an incredible learning experience, along with spellbinding eyewitness reports as sidebars. The volume's editor, Peter Darman, holds a military history degree from the University of York in England."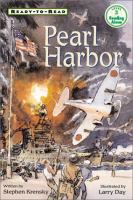 Pearl Harbor by Stephen Krensky – J 940.54 Kre
"Offers young readers a guide to the events that led to the bombing of Pearl Harbor and the episodes that followed as a result of it."  A Ready-To-Read Level 3 book.

Pearl Harbor by Andrew Santella – J 940.54 San
"Learn about the key events and people that are connected to the attack on Pearl Harbor in December, 1941."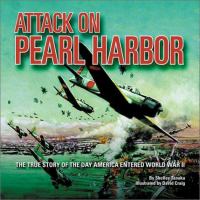 Attack on Pearl Harbor by Shelley Tanaka – J 940.54 Tan
"The true story of the day American entered World War II."
I'm Still Scared by Tomie DePaola – JB De Paola
"Following the attack on Pearl Harbor, the air raid drills and the need to darken windows at night fill first-grader Tomie with fear, but with reassurance from his parents, he finds a way to cope with living during a time of war."
Historical Fiction

Red Berries, White Clouds, Blue Sky by Sandra Dallas – J Dallas
"It's 1942: Tomi Itano, 12, is a second-generation Japanese American who lives in California with her family on their strawberry farm. Although her parents came from Japan and her grandparents still live there, Tomi considers herself an American. She doesn't speak Japanese and has never been to Japan. But after the Japanese attack on Pearl Harbor, things change. No Japs Allowed signs hang in store windows and Tomi's family is ostracized. Things get much worse. Suspected as a spy, Tomi's father is taken away. The rest of the Itano family is sent to an internment camp in Colorado. Many other Japanese American families face a similar fate. Tomi becomes bitter, wondering how her country could treat her and her family like the enemy. What does she need to do to prove she is an honorable American? Sandra Dallas shines a light on a dark period of American history in this story of a young Japanese American girl caught up in the prejudices and World War II."

Early Sunday morning : the Pearl Harbor diary of Amber Billows by Barry Denenberg – J Denenberg
"Acclaimed author Barry Dennenberg has written a moving story of one girl's devastating experience at Pearl Harbor, December 7, 1941. In her diary, twelve-year-old Amber describes moving to Hawaii in 1941 and experiencing the horror of the bombing of Pearl Harbor."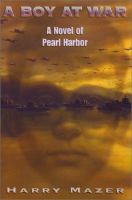 A boy at war : a novel of Pearl Harbor by Harry Mazer – YA Fiction Mazer
"While fishing with his friends off Honolulu on December 7, 1941, teenaged Adam is caught in the midst of the Japanese attack and through the chaos of the subsequent days tries to find his father, a naval officer who was serving on the U.S.S. Arizona when the bombs fell."

Under the Blood-Red Sun by Graham Salisbury – YA Fiction Salisbury
"Tomi was born in Hawaii. His grandfather and parents were born in Japan, and came to America to escape poverty.
World War II seems far away from Tomi and his friends, who are too busy playing ball on their eighth-grade team, the Rats.
But then Pearl Harbor is attacked by the Japanese, and the United States declares war on Japan. Japanese men are rounded up, and Tomi's father and grandfather are arrested. It's a terrifying time to be Japanese in America. But one thing doesn't change: the loyalty of Tomi's buddies, the Rats."

The bombing of Pearl Harbor, 1941 by Lauren Tarshis – J Tarshis
"History's most terrifying moments are brought vividly to life in the action-packed fictional I SURVIVED series! Do you have what it takes to survive … the bombing of Pearl Harbor?
Eleven-year-old Danny Crane is alone on his favorite beach in Hawaii when the world is torn apart and World War II officially hits the United States. Does he have what it takes to find his way home in the midst of the bombs, the smoke, and the destruction of the day that will live in infamy?"

Pearl Harbor : a day of infamy by Steve White – J GN White
"Graphic novel depicting Japan's surprise attack on Pearl Harbor, Hawaii, in 1941, and the United States's entry into World War II."