Today is Martin Luther King, Jr. Day, established to celebrate the life of MLK, Jr. and his achievements as an activist for equality, civil rights, and nonviolence.  Since the Handley Regional Library is open today and many of you are off work or out of school, this is a great opportunity for children to visit the library and pick up some books to learn more about his life and our country's history.
We invite you to explore the resources Handley Regional Library has for learning about him.  Here is a selection of what our collection offers:
Picture Books


We march by Shane W. Evans –  JE Evans
"Illustrations and brief text portray the events of the 1963 march in Washington, D.C., where the Reverend Martin Luther King Jr. delivered a historic speech."

Riding to Washington by Gwenyth Swain ; illustrated by David Geister – JE Swain
"A young white girl rides the bus with her father to the March on Washington in 1963–at which Dr. Martin Luther King, Jr., would give his "I Have a Dream" speech. She comes to see that Dr. King's dream belongs not just to Blacks but to all Americans."
Juvenile Biographies

Martin's Big words : the life of Martin Luther King, Jr. by Doreen Rappaport ; illustrations by Brian Collier – JB King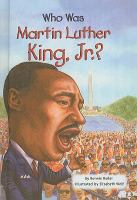 Who was Martin Luther King, Jr.? by Bonnie Bader ; illustrated by Elizabeth Wolf – JB King
"An introduction to the life Martin Luther King, Jr. Including how he organized the Montgomery Bus Boycott and African American people across the country in support of the right to vote, desegregation, and other basic civil rights."

I am Martin Luther King, Jr. by Brad Meltzer ; illustrated by Christopher Eliopoulos – JB King
"A brief, illustrated, biography of the Baptist minister and civil rights leader whose philosophy and practice of nonviolent civil disobedience helped American blacks win many battles for equal rights."
Juvenile Non-fiction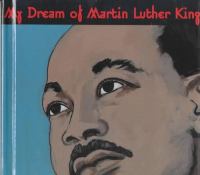 My dream of Martin Luther King by Faith Ringgold – J 323.092 Rin
"Illustrated with the dramatic, folk-modern paintings for which Faith Ringgold is renowned, My Dream of Martin Luther King, Jr. is a vivid, captivating, and deeply inspiring work that will confirm her status as one of the most influential and innovative children's book artists working today."  — description from Publisher.
I have a dream by Martin Luther King, Jr. – J 305.896 Kin
A picture book version containing the full text of MLK, Jr.'s famous speech, illustrated by 15 different Corretta Scott King award- and honor-winning artists.

I have a dream [sound recording] / Martin Luther King, Jr. ; illustrated by Kadir Nelson – J CD/BOOK KING
This lushly illustrated version combines quotes from MLK, Jr.'s "I have a dream" speech with paintings by two-time Caldecott Honor winner Kadir Nelson.  This book and CD set includes the original recording of the complete speech.
Young Adult Biography and Non-Fiction
M.L.K. : journey of a King by Tonya Bolden ; photography editor, Bob Adelman – Bio King
"Illustrated with extensive period photography and narrated with Bolden's lively, well-researched text, Martin Luther King, Jr.'s words and deeds are given new life to educate and inspire young minds.
Most people know King as a Nobel Peace Prize winner, a renowned orator, and a central and revered figure in the civil rights movement.  But how did he become this figure?  What were his inspirations?  What were his aspirations?  What events, people, and decisions shaped his destiny?
Bolden introduces young readers to the human being behind the icon." — From the Publisher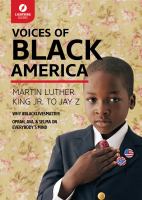 Voices of black America : MLK Jr. to Jay Z.
"Explores America's most talented and provocative black voices, from Martin Luther King, Jr. to Jay Z, discusing the diversity of issues from the right to vote and Black Feminism to Rodney King and Ferguson Missouri."