Happy New Year!  This Saturday is Chinese New Year.  This year is the year of the Fire Rooster, so we're taking our cues from Chinese culture and folktales and sharing stories about roosters and dragons.
Books to Share:
Bringing in the New Year by Grace Lin – JE Lin
A Chinese American family prepares for and celebrates the Lunar New Year. End notes discuss the customs and traditions of Chinese New Year.
How the rooster got his crown retold and illustrated by Amy Lowry Poole – J 398.20951 Poo
In the early days of the world, when the sun refuses to come out for fear of a skillful archer's arrows, a small rooster saves the day by coaxing the sun out with his crowing.
D is for dancing dragon : a China alphabet written by Carol Crane and illustrated by Zong-Zhou Wang.
"This A to Z children's pictorial covers topics such as Beijing, Dragon Dance, Himalayan Mountain Range, Mongolians, and the giant panda. Each subject is introduced with a simple rhyme for younger readers. Expository text is also included for older readers"–Provided by publisher.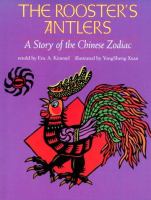 The rooster's antlers: a story of the Chinese zodiac retold by
Eric A. Kimmel, illustrated by YongSheng Xuan – J 398.2 Kim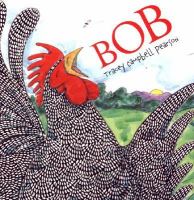 Bob by Tracey Campbell Pearson.
While looking for someone to teach him how to crow, a rooster learns to sound like many different animals and finds that his new skills come in handy.
Cock-a-doodle-doo : a farmyard counting book / by Steve Lavis.
A counting and identify-the-animals-and-their-sounds book. One by one (and two, three, four all the way to ten!) the animals on the farm wake up to the rooster's crow. Youngsters will love counting and identifying the animals, imitating their sounds, and playing hunt and find as they locate the little mouse that travels from page to page. Never before have the myriad activities of a barnyard been duplicated with such rollicking good humor!
These books, and many more, are available at the Handley Regional Library.  You can find the books listed here in the HRL catalog under the tag: #roosteranddragonstorytime  Many of our collections of books on popular subjects are also available right here on the blog on the Booklists page and are also available in hardcopy at your library.
Songs, Poems, and Fingerplays to Share

I Love My Rooster
I love my rooster, my rooster loves me
And I feed my rooster on the green-berry tree
And my little rooster says cock-a-doodle doo
Deedoodle-eedoodle-eedoodle-eedoo
I love my cow…
I love my duck…
I love the lion…
I love my elephant…
Five Little Firecrackers
Five little firecrackers getting ready to zoom (hold up five fingers)
Sizzle, sizzle, sizzle, sizzle, sizzle (build anticipation by sizzling hands low to high)
BOOM! (clap hands high above head)
Continue counting down 4, 3, 2, 1…..
Five Red Dragons
Five red dragons
Making such a roar
One danced away
And then there were four.
Four red dragons
Dancing 'round a tree
One danced away
And then there were three
Three red dragons
Dancing 'round you
One danced away
And then there were two
Two red dragons
Dancing in the sun
One danced away
And then there was one
One red dragon
Having lots of fun
She danced away
And then there were none
Rooster's Feathers
(cut several simple feather shapes out of paper or felt)
Do you have a red feather,
A red feather, a red feather?
If you have a red feather,
Bring it up here now.
Continue poem, calling out other colors.
Dragon, Dragon
Tune:  "Twinkle, Twinkle Little Star"
Dragon, dragon, dance around.
Dragon, dragon, touch the ground.
Dragon, dragon, shake your head.
Dragon, dragon, tongue so red.
Dragon, dragon, stamp your feet.
Dragon, dragon, coming down the street!
We hope to see you at storytime!
Bowman Library
Toddler Time – Mondays @ 11AM
Storycrafters – Tuesdays @ 6PM
Preschool Time – Wednesdays @ 11AM
Baby Time – Thursdays @ 11AM
Preschool Time – Saturdays @ 11AM
Clarke County Library
Preschool Time – Tuesdays @ 10:30AM
Handley Library
Preschool Time – Mondays @ 10:30AM
Baby and Me – Tuesdays @ 10:30AM
Toddler Time – Thursdays @ 10:30AM
Check the calendar for more children's programs and special events throughout the system.
Image Courtesy: https://www.vecteezy.com/vector-art/124045-chinese-new-year-rooster-red-packet