The Girl Who Drank the Moon by Kelly Barnhill.  
Barnhill's original fairy tale adventure is full of good and bad witches, magic, monsters, and dragons. It has been racking up accolades all year long, including being named: 
A New York Public Library Best Book of 2016
A Chicago Public Library Best Book of 2016
A Publishers Weekly Best Book of 2016
A School Library Journal Best Book of 2016
Named to KirkusReviews' Best Books of 2016
2017 Booklist Youth Editors' Choice
Now, as a John Newbery Medal winner, it has been awarded the field's highest honor.  School Library Journal called it "An expertly woven and enchanting offering for readers who love classic fairy tales."  Read the full review here: School Library Journal Review
HRL's copy is currently on order and will appear in our catalog shortly.  While you're waiting for it, try out Barnhill's other works: Author Search: Kelly Barnhill
Newbery Honor Books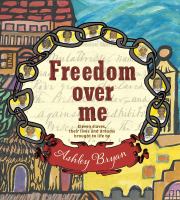 "Using original slave auction and plantation estate documents, contrasts the monetary value of a slave with the priceless value of life experiences and dreams that a slave owner could never take away"– Provided by publisher.
Crossing paths at an inn, thirteenth-century travelers impart the tales of a monastery oblate, a Jewish refugee, and a psychic peasant girl with a loyal greyhound, the three of whom join forces on a chase through France to escape persecution.
Wolf Hollow by Lauren Wolk (HRL copies currently on order, look for them shortly)
Annabelle has lived in Wolf Hollow all her life: a quiet place, still scarred by two world wars. But when cruel, manipulative Betty arrives in town, Annabelle's calm world is shattered, along with everything she's ever known about right and wrong.
When Betty disappears, suspicion falls on strange, gentle loner Toby. As Wolf Hollow turns against him, and tensions quickly mount, Annabelle must do everything in her power to protect Toby – and to find Betty, before it is too late.
Powerful, poignant and lyrical, Wolf Hollow is an unforgettable story.
The Newbery Medal is a wonderful resource to help find high-quality children's books.  You can find out more out last year's winners here: 2016 Newbery Winner Announced! and find all past winners on our booklist here: Newbery Medal Award Winners