The mysterious markings on the moon have inspired many stories.  In America, we tell stories of the Man in the Moon.  Other cultures see a rabbit imprinted on the moon.
In China, Japan, and Korea, the moon rabbit is called the Jade Hare.  In China, these stories are often told during the Mid-Autumn Moon Festival.  Bowman Library will be hosting a Moon Festival Celebration this year on Wednesday, October 4th @ 6PM.  We hope you join us for this fun and educational festival!
In honor of our Moon Festival, the storytimes this week are focusing on books about the Moon.

Books to Share:  
Papa, please get the moon for me by Eric Carle – JE Carle
Monica's father fulfills her request for the moon by taking it down after it is small enough to carry, but it continues to change in size. Some pages fold out to display particularly large pictures.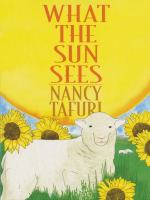 What the sun sees, what the moon sees / by Nancy Tafuri – JE Tafuri
Contrasts the world as viewed in sunlight with the quiet night world in moonlight.
Sun and moon by Lindsey Yankey – JE Yankey
Although he has always stayed in his own place in the sky, Moon asks to trade places with Sun for one day, but when Sun asks Moon to carefully examine the night, Moon has a change of heart.
These books can be found in the Handley Regional Library catalog under the tag: Moon and Sun Storytime Booklist.
Songs, Poems, and Fingerplays to Share

Sally Go 'Round the Sun
Sally go round the sun, (circle left)
Sally go round the moon. (circle right)
So go round the stars, (circle left)
Every afternoon.  (circle right)
Twinkling Stars
At night I see the twinkling stars, (wiggle fingers)
And the Great Big Shining Moon (circle arms)
My mama tucks me into bed (fist under chin)
And sings this goodnight tune (sing a lullaby)
"Moon, Moon, Moon" can be found on Victor Vito – J CD Berkner
Zoom Zoom Zoom
Were going to the moon
Zoom Zoom Zoom
Were going to the moon
We'll climb aboard a rocket ship
And go upon a little trip
Zoom Zoom Zoom
Were going to the moon
5. .4. .3. .2. .1. . Blast off.
Literacy Tip: Background Knowledge

Share books that have factual information about the world.  Building your children's knowledge about the world will help them understand what they read later.
Sun and Moon
Moon comes out
(Hold hand to form a crescent.)
Sun goes in.
(Place other hand behind back)
Here is a blanket to cuddle your chin.
(Place hands under chin.)
Moon goes in.
(Place moon hand behind back.)
And Sun comes out.
(Hold hand out with fingers extended)
Throw off the blankets and bustle about!
(Fling arms out wide and wiggle body.)
Galaxy Bend and Stretch

Bend and stretch,  reach for the stars.
There goes Jupiter, here comes Mars!
Bend and stretch, reach for the sky,
Stand on tiptoe, oh so high!


We hope to see you at storytime!
Check the calendar for more children's programs and special events throughout the system.