Thanksgiving Stories
Storytimes aren't just for in the library – take storytime home with you or take it on the road as you travel over the holidays!  Bring along a selection of stories, teach some new rhymes, and sing songs together as a family to entertain your kids while on the road.  And what better theme than a collection of silly, sweet stories about Turkeys?
Books to Share:

Turkey Surprise by Peggy Archer – JE Archer
"A turkey hides from two brothers looking for food for Thanksgiving Day, and they end up finding something better to eat."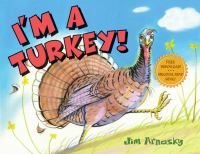 I'm a Turkey by Jim Arnosky – JE Arnosky
"In spoken-word song with rhyming text, a turkey describes his life in a large flock, always looking out for other creatures that might find him tasty."  Don't forget to stop by Scholastic's webpage and download a free mp3 of Jim Arnosky's companion song, "Talkin' Turkey."

10 Fat Turkeys by Tony Johnston – JE Johnston
"Girls and boys will gobble up this hilarious counting story about ten goofy turkeys roller-skating on a fence, doing a noodle dance, and more! Give thanks! This Thanksgiving favourite is now available as a board book with foil cover."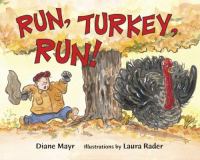 Run, Turkey, Run! by Diane Mayr – JE Mayr
"The day before Thanksgiving, Turkey tries to disguise himself as other animals in order to avoid being caught by the farmer."
Descriptions in quotation marks are provided by publishers.
These books, and many more, are available at the Handley Regional Library.
Songs and Poems to Share
Albuquerque Turkey
(Tune: "My Darlin' Clementine")
Albuquerque is a turkey
and he's feathered and he's fine.
And he wobbles and he gobbles
and he's absolutely mine.
He's the best pet you can get,
yet better than a dog or cat.
He's my Albuquerque turkey;
and I'm very proud of that.
Albuquerque is a turkey,
and he's happy in his bed.
'Cause for our Thanksgiving dinner
We'll have pizza pie instead!
Turkey and Stuffing (Tune of "Where is Thumbkin")
Turkey and stuffing,
Turkey and Stuffing,
Pumpkin pie.
Ten feet high!
We were so much thinner,
Before we ate our dinner.
Me-oh-my!
Me-oh-my!
Three Turkey Gobblers
The night before Thanksgiving when I had gone to bed,
I heard 3 turkey gobblers, and this is what they said:
The first turkey said, "I think I'd better go
And hide behind the haystack where no one will know."
The second turkey said, "I think I'll find a tree
And hide high in the branches where no one will see."
The third turkey said, "I think it would be lots of fun
To hide the farmer's hatchet and run, run, run!"
And then on Thanksgiving morning when the farmer came around,
Those three turkey gobblers could not be found.
Old Tom Turkey
Old Tom Turkey lived on a hill.
Gobble, gobble, gobble (Waggle head back and forth)
If he's not gone he lives there still.
Gobble, gobble, gobble
A duck came by and said hello,
Quack, quack, quack. (Flap your arms like wings)
Gobble, gobble, gobble.
Goodbye now friend, it's time to go.
Quack, quack, quack.
Gobble, gobble, gobble.
We hope to see you at one of Bowman Library's storytimes:
Toddler Storytime – Mondays @ 11AM
Twilight Tales – Tuesdays @ 6PM
Preschool Storytime – Wednesdays @ 11AM
Baby Storytime – Thursdays @ 11AM
Preschool Storytime – Saturdays @ 11AM
Check the calendar for storytime schedules at the Handley and Clarke County Libraries and for special events throughout the system.